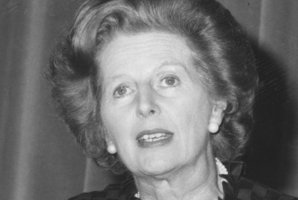 The Margaret-Denis partnership was always the key relationship in the Thatcher family.
Denis Thatcher was the ultimate Thatcherite: an old-fashioned businessman who, in his sixties, cast aside many of his ingrained instincts to rise to the challenge of acting as consort to the UK's first woman prime minister.
Though mocked in Private Eye, he fulfilled his role in a most intelligent way, serving as the cornerstone of Margaret's life and always placing her interests before his own.
Their daughter Carol summed him up: "He was a shy man, but he had to un-shy himself pretty damn quick. It wasn't a part he ever auditioned for, but he played it brilliantly."
Carol, by contrast, may have felt a little neglected. Ex-MP Jonathan Aitken, an old boyfriend of hers, once related: "Carol and her mother had a tense relationship, with more chill than warmth. Carol admired Margaret from a distance, but did not enjoy being close to her."
The relationship between Margaret and Carol's twin Mark was very different, however: she adored him, despite his weakness for accident-prone, headline-grabbing escapades.
But the most important relationship of her life was clearly that with Denis. In the earlier years of her career he was able, as a successful oil executive, to offer her financial security. But much more important was the fact that he came close to being the ideal husband for a prime minister. She once confessed: "I couldn't have done it without Denis. He was a fund of shrewd advice and penetrating comment. And he very sensibly saved these for me rather than the outside world."
He in return said: "I have been married to one of the greatest women the world has ever produced. All I could produce, small as it may be, was love and loyalty." His discretion was perhaps no great sacrifice, since he regarded journalists as "reptiles".
The Private Eye version of him as a far-right golfer who regarded Labour Party people as commies and liked his drink was exaggeration for humorous effect. Yet it was by no means an invention. Someone once collected the various words he used for a drink. These included an opener, a brightener, a lifter, a tincture, a snifter and a snort.
Carol recalled: "Dad always used to defuse difficult situations with humour. If there was a crisis he'd pour himself a stiff gin and say: 'Let's just relax.' He lived on gin and cigarettes and made it to 88."Independent