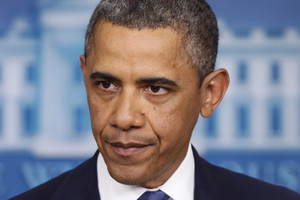 He may have thought it a throwaway remark, but United States President Barack Obama's decision to call California's top law enforcement officer "the best-looking attorney-general in the country" has instead proved to be the political equivalent of a boomerang.
His comments about Kamala Harris last week refuse to go away - at the weekend he was forced to apologise after allegations of sexism and then supporters claimed the furore was overblown.
Obama made the comment at a Democratic fundraising lunch in Atherton, California, where he described Harris as brilliant, dedicated and tough before drawing attention to her appearance.
White House spokesman Jay Carney told reporters that the following day Obama had phoned Harris, who campaigned on his behalf in 2008 and 2012, "to apologise for the distraction created by his comments". The President "did not want in any way to diminish the attorney-general's professional accomplishments and her capabilities", he said.
Much of the subsequent criticism came from Obama's side of the aisle.
Joan Walsh, a liberal columnist for Salon, said her "stomach turned" at the comments. "I assume he thought he was just paying someone he admires a compliment," Walsh wrote. "But most women in public life have a complex relationship with their appearance, whether they're as attractive as Harris or not."
By contrast, Fox News found itself in the rare position of defending the President. Gretchen Carlson, host of Fox and Friends, dismissed the furore: "I wish that we wouldn't be so completely PC on this issue because it's true, she's attractive, so what?"
Speaking on NBC's Meet the Press yesterday, Bill Richardson, a Democrat and former Governor of New Mexico, said: "Maybe I'm a Neanderthal, but I thought the President's comment was harmless. Political correctness has reached a point where it's out of control."
During his 2008 presidential campaign, Obama apologised after addressing a female reporter as "sweetie".
Yet he also has a history of congratulating male officials on their appearance. In a 2012 speech, he described Secretary of the Interior Ken Salazar as "a good-looking guy".
Harris accepted the President's apology. Her spokesman, Gil Duran, said: "The Attorney General and the President have been friends for many years. They had a great conversation yesterday and she strongly supports him."
- Independent