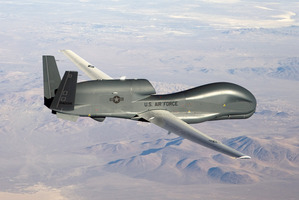 The US military is set to deploy an unmanned spy plane in Japan to boost surveillance capabilities as North Korea apparently readies for missile launches.
The Global Hawk will be stationed at the US airbase in northern Japan, in the first ever deployment of the aircraft in the country.
The US military informed Japan last month about plans to deploy the plane between June and September but may bring the date forward.
South Korea's Yonhap news agency said North Korea had loaded two mid-range Musudan missiles on mobile launchers and hidden them in underground facilities near its east coast.
The Musudan are believed to have a range of around 3,000km, which could be pushed to 4,000km. That would cover South Korea and Japan, and even reach US bases on Guam.
- AAP