Recognition for opposition coalition includes right for member states to give military aid.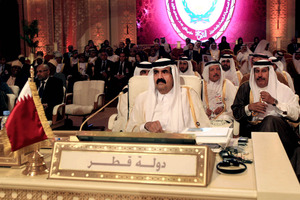 It is a seat that has been occupied by Bashar al-Assad for more than a decade, but the Syrian President's chair at the Arab League was handed to those seeking to oust him, in a historic moment for the opposition.
The three-starred flag of the Syrian revolution replaced the two-starred flag of the regime marking Syria's place at the two-day summit of the 22-member league in the Qatari capital, Doha.
Moaz al-Khatib, the moderate Damascus cleric who has steered the coalition since November, took the chair, making an impassioned call for help to end the two-year cycle of violence.
The symbolic move followed a tumultuous week for the Syrian National Coalition, fraught by resignations and infighting. Khatib was introduced to the assembled Arab leaders as the head of the opposition coalition, despite dramatically quitting his post at the weekend.
Opposition sources said Khatib had agreed to return if the organisation was made more representative - an apparent attempt to counteract Muslim Brotherhood domination.
In a statesmanlike speech, he called for the United States and Nato to provide Patriot missiles to protect rebel-held northern areas and described the plight of a former student driven mad by torture and later killed by the regime. He also touched on foreign interference in the coalition - a barbed jibe at countries like Qatar and Saudi Arabia which are accused of trying to influence the opposition.
Damascus, which was suspended from the Arab League in November 2011 after it rejected a peace plan, reacted with fury. Its former ambassador, Yousef Ahmad, said a legitimate sovereign state had been replaced by a "monstrosity", in a brazen violation of the Arab League's charter.
An editorial in the Al-Thawra newspaper, a government mouthpiece, said: "The shameful decisions it [the league] has taken against the Syrian people since the beginning of the crisis and until now have sustained our conviction that it has exchanged its Arab identity with a Zionist-American one."
The Qatari ruler, who chaired the summit, said the Syrian opposition deserved "this representation because of the popular legitimacy they have won at home and the broad support they won abroad and the historic role they have assumed in leading the revolution and preparing for building the new Syria".
In a further show of solidarity with anti-Assad forces, the Arab League endorsed the "right of each state" to provide the Syrian people and the Free Syrian Army with "all necessary means to ... defend themselves, including military means."
- Independent, AP