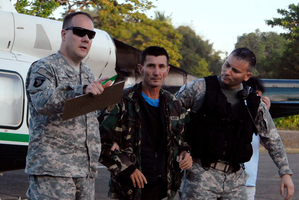 An Australian kidnapped by Islamic militants in the Philippines 15 months ago was yesterday released - several kilograms lighter.
Warren Rodwell was taken from his home on the southern island of Mindanao and his kidnappers demanded a $2.3 million ransom.
Australian Foreign Minister Bob Carr welcomed the release of an extremely gaunt Rodwell, a retired soldier, but would not say whether the ransom had been paid. He was abducted on December 5, 2011, by armed members of the al Qaeda-linked group Abu Sayyaf.
Rodwell was in police custody in Pagadian yesterday, about 100km east of Ipil, where he ran a store with his Filipino wife Miraflor Gutang before the kidnapping.
A photo and short video taken by a journalist at the police station early showed a thin but smiling Rodwell, aged in his 50s, sitting alongside two policemen.
In the video, Rodwell takes off a blue T-shirt and stands up to show off his body, smiling as he points to his ribs and says: "lose weight".
The kidnappers had previously released a series of video clips as proof they still held him, and in which Rodwell said his captors were demanding a $2.3m ransom.
Senator Carr said it was not the government's policy to pay ransoms but he neither confirmed nor denied money had exchanged hands.
"The Australian government never pays ransoms - to do so would leave Australians exposed in all parts of the world to kidnappers who would be motivated by a desire to get money and to get it fast from the Australian Government," he told ABC TV.
"But I won't comment on arrangements that may have been made by Mr Rodwell's family and Abu Sayyaf, the kidnappers, made through the Philippines anti-kidnapping unit and their police force."
Al Rashid Sakalahul, the vice governor of the southern island of Basilan who negotiated with the Abu Sayyaf for Rodwell's release, told AFP the militants called him to confirm the hostage was freed in Pagadian.
Sakalahul would not say if ransom money was paid, insisting he merely acted as an intermediary.
"Rodwell's family directly negotiated with the kidnappers and I do not know if they paid ransom ... my role was to get Rodwell out safely," he said.
Rodwell settled in Ipil in 2011 after working as a teacher in China before marrying Gutang, whom he met on the internet.
Senator Carr said he had spoken to Rodwell's "enormously relieved" sister Denise, who would be flying to the Philippines today.
"It's a good outcome, but I imagine that he's going to take some time to recover from what was a very unsettling experience to say the least," he said.
He said Rodwell was being moved to "a safe location" in the company of Philippines authorities, deputy Australian ambassador Andrew Burn and a representative of the Australian Defence Force.
"The focus now is on Mr Rodwell's speedy recovery," he added.
Rodwell is believed to have fought his kidnappers when he was initially taken.
Bloodstains found beside his house were believed to have been from an injury to his hand, according to a Philippines military officer.
In videos taken by his captors his eyes had been puffy and his face appeared bruised.

-AAP