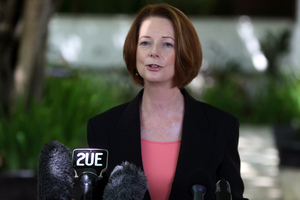 Speculation over Prime Minister Julia Gillard's leadership has reached a new pitch after a sudden shift among MPs dismayed at the state of the Government and the looming defeat of a key media reform package.
Although former Prime Minister Kevin Rudd has continued to reject a new challenge, there are increasing signs he would accept the job if Gillard was tapped on the shoulder.
Parliament House has also been humming with speculation that former Labor leader and present Arts Minister Simon Crean might be drafted as a far less controversial compromise to steer the Government to the September 14 election.
Crean has denied the possibility, saying Labor's future lay not in changing leaders but in good policy and strength of leadership.
But Gillard and Rudd supporters have been counting numbers amid reports that many MPs want leadership speculation resolved within the next few days.
"It'd be silly to tell people that there's nothing going on," chief government whip and Rudd supporter Joel Fitzgibbon said. "Obviously, internally people are looking at the polls and they're expressing concern about the future of the Government and indeed the Labor Party, and you'll get conversations and those conversations are unfortunately making their way into the media."
The numbers remained uncertain yesterday, but there was general agreement that at least for the moment Rudd does not have sufficient support for a decisive victory.
Rumours of an imminent challenge, and of Crean's possible return to the leadership he held for the two years after Labor's defeat at the 2001 election, broke into a frenzy late on Tuesday night.
Gillard's leadership has been fragile for months following a number of policy debacles and poor polls predicting the Government will be buried by a Coalition landslide in September.
The most recent showed that despite some gains by Labor, the Opposition continued to hold an overwhelming lead of 54.5 per cent to 45.5 per cent in the two-party preferred vote that decides Australian elections. Labor backbenchers have also been concerned by a number of other developments, including plans to cut payments to single parents, and by the apparent disaster looming for Communication Minister Stephen Conroy's media reform package.
His ultimatum that the package of six bills must be passed by today infuriated Opposition and crossbench MPs and seemed set to doom the legislation.
Labor would either have to dump the package or become the first Government for decades to be defeated on the floor of the House.
Faced with a new disaster, Gillard stepped in and took over negotiations that were increasingly being seen as a reflection both of her political judgment and her leadership.
By late Tuesday she had won sufficient crossbench support to pass two of the bills, relating to commercial television fees and local content, and was yesterday locked in talks over the remaining bills.
These included controversial proposals for new public interest advocate to oversee the industry.
Late yesterday, while securing the broad agreement of the Greens, Gillard had not succeeded in winning the backing she needs from five of the seven crossbenchers.
Independent MPs Bob Katter and Andrew Wilkie yesterday said they would not support the bills.
Late yesterday rumours persisted of a challenge, either imminent or after Treasurer Wayne Swan brings down the Budget in May.
Foreign Minister Bob Carr and Mental Health Minister Mark Butler were reportedly considering ending their backing for Gillard.