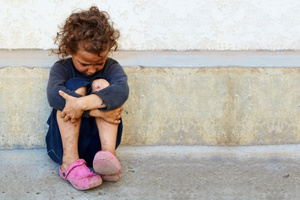 The majority of British children will soon be growing up in families which are struggling "below the breadline" because of welfare cuts, tax rises and wage freezes, the Government is warned today.
Within two years, almost 7.1 million of the nation's 13 million youngsters will be in homes with incomes judged to be less than the minimum necessary for a decent standard of living, according to a report.
The figures, which emerged a week ahead of George Osborne's Budget, suggest that an unwanted legacy of the Coalition's squeeze on spending will be to leave more children living close to poverty.
They coincide with a new survey for the Resolution Foundation think-tank, which found that almost seven in 10 of people believe the Government does not understand the financial strains they face.
The impact on children of the economic downturn and austerity cuts was underlined by an analysis that concluded that the number of under-18s living in households below minimum income standards would rise by 690,000 between 2010-2015.
The report said 460,000 children would be pushed below those levels by the increase in value added tax and cuts to tax credits, 170,000 by sluggish wage growth and 80,000 by the curbs on public sector pay. Just 20,000 would be raised above the minimum level by the new Universal Credit system, which begins to come into force in October.
Frances O'Grady, general secretary of the Trades Union Congress, which ordered the research, said: "By the 2015 election, the majority of children in Britain will be living below the breadline.
"For any civilised society, that should be shaming."
- Independent