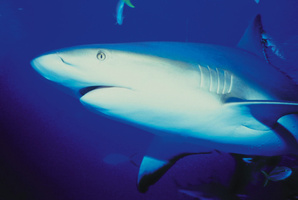 A pensioner who was hailed a hero after grappling with a shark in Australia has been sacked after it emerged he was on sick leave with stress.
Paul Marshallsea, 62, waded in to the surf and grabbed the two metre shark by the tail amid fears it would attack paddling children.
The charity worker, from Merthyr Tydfil, South Wales, claims he risked his life at the beach outside Brisbane in January when he was hailed a hero.
A local news crew caught his intervention on camera and his exploits were beamed around the world.
But also watching were trustees of the Pant and Dowlais Boys & Girls Club, a children's charity for which he worked - he had been away on work-related stress since last April.
The grandfather-of-one and his wife Wendy, 56, who also worked for the charity and was off ill at the time, flew back to Britain to letters informing them they had been sacked.
He hit back today saying he was "disgusted" by the way he had been treated.
He claims that, as he had waded in and saved the lives of children, he should have received a pat on the back.
He added he took the holiday with his wife on the advice of his GP.
"If I hadn't gone in to save the kids on that beach that day my wife and I would still have a job,'' he told WalesOnline.
"You think being in charge and running a children's charity, they would have tapped me on the back.
"Where do I now get a job? There's not much call for shark wrestlers in Merthyr Tydfil."
The couple were enjoying a barbecue on a beach on the Sunshine Coast when the father-of-three went into action after hearing cries of "help, shark".
- AAP