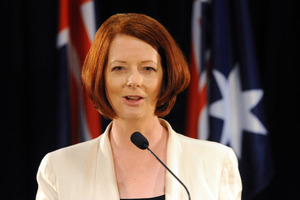 Life is about to get even tougher for Prime Minister Julia Gillard, already burdened with enough bad news to all but guarantee her defeat in the September 14 election.
When Parliament resumes today she will have the results of the latest Newspoll hanging over her head. Unless there has been some sudden, unexpected reversal in her fortunes, the poll is likely to continue painting a future in the wilderness.
Even without more bad polling, the weekend's state election in Western Australia - which the Liberals won with a crushing landslide - has thundered more omens of doom for both her leadership and the Government's survival.
WA Premier Colin Barnett, who has won both a second term and the ability to govern in his own right without his alliance with the Nationals, has rejected suggestions it was the shadow of Gillard that chased voters to his party.
He said that while federal controversies such as the mining and carbon taxes were "part of the background", the campaign had been fought on state issues.
"This was not an election about how people regarded the Prime Minister," Barnett said.
The Liberals were never going to lose the election.
There is a strong history favouring the re-election of first-term state governments, state Labor had long been in disarray and out of favour, and polling had predicted a sound Liberal victory.
Voters in WA are also politically insular and Canberra-phobic, believing that while the state's mineral wealth underpins the national economy it has never been given its fair share. Barnett has been prominent in standing up against federal policies, especially the mining and carbon taxes that are extremely unpopular in the west.
But the size of the swing against Labor was much larger than expected. At more than 8 per cent, Labor is likely to hold only about 20 of the state Parliament's 59 seats when voting is completed.
And while Barnett may discount Gillard's role, senior members of her own party, commentators and the federal Opposition have pointed the finger squarely at federal Labor.
A Sky News exit poll, conducted by Newspoll, found that federal issues were the second most important factor in deciding votes.
Given the raw nerves already jangling along Government backbenches, the WA result will increase a growing sense of despair and a consequent move to dump Gillard in favour of Kevin Rudd, the former Prime Minister ousted by coup in 2010.
There are no immediate plans for a challenge, and Rudd has repeatedly said he will not be drafted in a plot to replace Gillard. But if the tsunami of bad press continues to hammer the Prime Minister and Labor, that could change.
Anonymous murmurings after the weekend's disaster were given shape by former state Labor minister Alannah MacTiernan, who warned: "If we thought this was a landslide in WA, what we will have at the next federal election will be a crucifixion.
"[Voters] are saying they don't like Julia Gillard, they don't believe her," she said. "The only way that we can dig ourselves out, [or] have got any hope of digging ourselves out of this Greek tragedy, is for the Prime Minister to stand down."
Finance Minister Penny Wong said federal Labor had to pay heed to the WA results, and Defence Minister Stephen Smith, a West Australian, conceded the federal Government had hurt the state campaign.