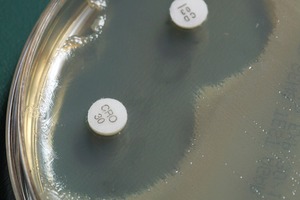 The risk caused by microbes becoming increasingly resistant to the most powerful drugs should be considered as great as that posed by terrorism and climate change, says Britain's chief medical officer.
Dame Sally Davies yesterday warned Britain's health system could slip back 200 years unless the "catastrophic threat" of antibiotic resistance is successfully tackled.
In her annual report, Davies says the problem of microbes becoming increasingly resistant to the most powerful drugs should be ranked alongside terrorism and climate change on the list of critical risks to the nation.
Davies calls for a string of actions to tackle the threat, which is likely to include tighter restrictions on how GPs prescribe antibiotics for their patients.
Declaring that in 20 years even minor surgery may lead to death through untreatable infection, she warns: "This is a growing problem, and if we don't get it right, we will find ourselves in a health system not dissimilar from the early 19th century."
In her report, published yesterday, she says: "There is a need for politicians in the UK to prioritise antimicrobial resistance as a major area of concern, including on the national risk register and pushing for action internationally as well as in local healthcare services.
"Antimicrobial resistance is a ticking time-bomb not only for the UK but also for the world. We need to work with everyone to ensure the apocalyptic scenario of widespread antimicrobial resistance does not become a reality. This threat is arguably as important as climate change."
The Government's chief pharmaceutical officer, Keith Ridge, said although the control mechanism for prescribing antibiotics had been strengthened in hospitals, there would need to be tighter control of antibiotic prescriptions in GPs' surgeries.
In Britain, although hospital infections from bugs such as MRSA and C. difficile have been greatly reduced from the levels of 10 years ago, they are being replaced by other bacteria such as E. coli and klebsiella.
About 5000 patients a year in Britain are dying from bloodstream infections, half of them caused by drug-resistant organisms.
Yet while antibiotic use is rising - not least in agriculture for farmed animals and fish, which is now thought to account for 50 per cent of antibiotic use in Britain - resistance is steadily growing.
No new classes of antibiotics have been developed since 1987, and none is in the pipeline across the world.
The reason, Davies says, is market failure - for Big Pharma, there is little money in expensively developing new compounds which will be taken only in short courses, and then may become obsolete anyway as resistance builds up, compared with a drug for blood pressure, say, which may have lifelong use for patients.
-Independent