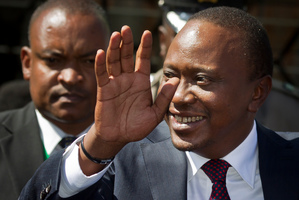 International criminal court indictee Uhuru Kenyatta was officially declared the winner of Kenya's presidential election yesterday, although his rival, Raila Odinga, will not concede defeat and a legal challenge, alleging widespread fraud, is certain.
Kenyatta won by the slimmest of margins, earning 50.07 per cent of the vote to clinch a first-round win, in an election that saw a record turnout of 84.9 per cent of registered voters.
Kenyans waited for nearly a week for the Independent Electoral and Boundaries Commission to announce the result. So far protests have remained peaceful.
"This is a coming of age for Kenya," Kenyatta said in his acceptance speech. "Despite the misgivings of many in the world, we have demonstrated a level of political maturity that surpassed expectation. We voted in peace, we upheld order and respect for the rule of law, and maintained the fabric of our society."
Kenyan media called the election for Kenyatta after the electoral commission posted results from the last constituencies, but did not officially crown Kenyatta the winner until early afternoon. In the dawn hours, Kenyatta supporters blew whistles and vuvuzelas in celebration.
Boniface Mwinde, 25, is a bus conductor and Kenyatta supporter who went out to celebrate at three in the morning. "I feel very, very good," he said, wrapping himself in a red flag of Kenyatta's party. "I've been waiting to go back to work."
Businesses and schools were closed across Nairobi during the long wait.
A Kenyatta presidency has worried Western governments, which may have to limit diplomatic contact with Kenya due to the international criminal court charges against him. Kenya is an ally of the West in combating terror in Africa, and Nairobi, the capital, is home to a UN headquarters.
John Kerry, the US Secretary of State, released a statement after the election saying America would remain "a strong friend and ally of the Kenyan people", but outgoing Assistant Secretary of State for Africa Johnnie Carson had previously warned of "consequences" for Kenya's Government with Kenyatta in office.
In his acceptance speech, Kenyatta said that he would work with the ICC prosecution. "To the nations of the world I give you my assurance that ... we will continue to co-operate with all nations and institutions," he said. "However," he added, "we also expect that the international community will respect the sovereignty and the democratic rule of Kenya."
-Observer