Embattled Gillard unlikely to benefit as federal politics usually follow an independent course.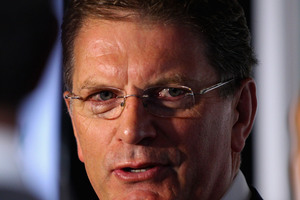 The dramatic exit of Victorian Premier Ted Baillieu has exposed the first cracks in the Liberal wall that sprang up with the dumping of Labor state governments along Australia's east coast and in Western Australia.
It is not clear whether Baillieu jumped or was pushed after a series of bad polls, scandals over the axing of the state's most senior policeman, the airing of secret tapes now the subject of a corruption inquiry, and the sudden defection of a Liberal MP.
But Geoff Shaw's decision to quit the party and sit as an independent shaved the Liberals' majority to just one vote in a state in which the Labor Opposition outpolls the Government.
In the Northern Territory, the future of the Country Liberal Party is also in doubt.
Chief Minister Terry Mills is clinging to power amid internal upheavals and a threat from the four MPs of the Bush Coalition to dump its alliance with the Government and sit as a cross-bench party holding the balance of power.
This would leave Mills with fewer than half of the Territory Parliament's 25 seats. Neither will seriously rock federal politics, where the Opposition continues to hold a crushing lead over Prime Minister Julia Gillard's minority Labor Government.
State politics traditionally do not reflect federal trends and, even if they did, any collateral swing to federal Labor in Victoria would not materially improve Gillard's chances of survival in the September 14 election.
Western Australia goes to the polls this weekend, with the Liberal-National Coalition expected to convincingly beat Labor - a result that opinion polls believe will be repeated in September, given the strength of feeling against Gillard's Government. More importantly, even with dissatisfaction at the slash-and-burn policies that have seen massive cuts to spending and public service jobs, the Liberal-led governments of New South Wales and Queensland are not under threat.
These two states are crucial to Gillard. In both, voter anger continues to rage against the former long-serving Labor Administrations and Gillard.
In Sydney's western suburbs, especially, Gillard faces polling that predicts a swing powerful enough on its own to eject her from power, which is why she spent much of this week campaigning there with a sackful of big-spending promises.
But the Liberals are in deep and abiding trouble in Victoria.
Baillieu's Government, which ousted Labor in 2010, hacked into spending with deep cuts to hospitals, school, transport and other services, slashing jobs and, according to new Bureau of Statistics figures, hammering the economy.
This week the Victorian economy officially entered recession.
The Government was also hit by a series of political messes, including the inherited problems of former Police Chief Commissioner Simon Overland, who resigned after allegations of misleading crime statistics.
This week Overland came back to haunt Baillieu with the publication of secret tape recordings obtained by the Herald Sun involving his chief of staff, Tony Nutt, and sacked police adviser Tristan Wilson.
Baillieu this week referred the tapes to the state's Independent Broad-based Anti-corruption Commission, but continued to face a political barrage from the Opposition.
On Wednesday Shaw announced his decision to quit the Liberals because of a "general loss of confidence" in the Government.
Shaw is a controversial MP who is being investigated for alleged misuse of an official car. He was also rebuked for using an obscene gesture in Parliament.
Within hours, Baillieu announced his decision to step down "in the best interests of the Government".