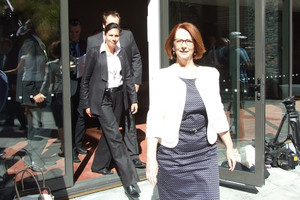 Prime Minister Julia Gillard is spending much of this week in western Sydney, trying to win back support in the vast suburbs of 2 million people that could destroy her Government in September.

She has booked into a hotel in Rooty Hill, one of the outer metropolitan suburbs that form the federal electorate of Chifley, named after reformist Labor Prime Minister Ben Chifley and held by the party since its creation in 1969.

Chifley is one of Gillard's key battlegrounds: it recorded an 11.6 per cent swing against Labor in 2010, and is now among a series of former blue ribbon Labor seats under real threat of falling to the Opposition on September 14.

If polling is accurate, an exodus of voters across western Sydney could alone be sufficient to bring down the Government.

Opposition Leader Tony Abbott is already working on the prospect, and swung through the region yesterday to mute Gillard's media circus as the Prime Minister handed out promises of billions of dollars in election pledges.

The appearance and glad-handing of both leaders has killed once and for all Gillard's claim that her decision to call the election so early in the year was purely to ensure the business of government could continue without constant and debilitating speculation.

The campaign is now effectively under way, promising long hard months of trench-fighting that most Australians want to know little about.

What voters are making abundantly clear is that, at this stage at least, anything is better than Gillard: Abbott might also be heartily disliked, but a rush from Labor in the opinion polls points to a landslide for the Coalition..

If the most dire polls prove correct, the landslide would claim the seats of ministers and senior Labor MPs and cast the party into the political wilderness for years.

The latest Morgan poll, reflecting recent findings by Newspoll and Nielsen, said the Opposition held a crushing 9 per cent lead in the two-party preferred vote that determines Australian elections.

Western Sydney is an urgent priority for Gillard.

Voters were furious at her ousting of predecessor Kevin Rudd, tired of Labor in power and distrusting of its promises, hurting economically and sick of years of corrupt State Labor Government rule.

New allegations about the depth of corruption involving former Labor ministers, rolling out daily from hearings at the state's Independent Commission Against Corruption, continue to stain the party brand.

A survey published in Fairfax newspapers found that at least four Labor seats in western Sydney are at direct risk.


Chifley, Blaxland, Werriwa and McMahon have been Labor for decades, but saw major swings as voters deserted Labor in 2010. The Fairfax survey said double-digit swings were likely in September.

Other polls have pointed to further losses in the region's marginal seats.

Gillard has gone there with a promise of a bright new future, focussing on employment, infrastructure, commuting, crime and realistic solutions.

She pledged A$1 billion to the western Sydney motorway network, A$64 million to fight crime gangs and illicit firearms, and recognition of the region: "Put simply, we don't accept that other suburbs come first and you come second,'' Gillard said.

The Opposition replied with a list of what it claimed were Gillard's 18 broken promises to the region at the last election, handing out flyers at bus and train stops, and promising to match Labor's largesse.
"We'll build the West Connex (motorway system), we will end the carbon tax, we'll stop the boats, we'll stop the guns," Abbott said.