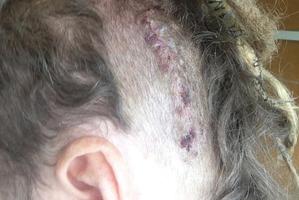 The lead singer of an Aussie punk band believes he caught a tapeworm which burrowed into his brain from a vegetarian burrito.
Australian band Frenzal Rhomb pulled out of a recent tour with American punk veterans the Descendants and The Bouncing Souls, citing of one member of the band's "sudden and unexpected illness".
Lead singer Jay Whalley this week explained the reason behind the cancellation, saying in a post on Facebook that he started to lose vision while loading a bass cabinet in to his car on January 25, before he suffered two seizures.
The 40-year-old awoke in hospital, and was told by a doctor a brain scan had revealed a small tumour 1cm in diameter. Whalley was told it was either malignant melanoma, a benign tumour or an infection, but they wouldn't know until a biopsy was undertaken on February 14.
"Valentine's Day Brain Surgery. Sounds like a Ramones song," he wrote. "They gave me general anaesthetic and cut a 10cm rectangle at the back left of my skull, took out the offending alien and put the skull piece back. It was over in about three hours."
Whalley was relieved to learn the object was a kind of an infection, which doctors believe was caused by a "pig tapeworm" he had picked up while in Central America.
The staunch vegetarian explained how he understood he had contracted the tapeworm.
"So the tapeworm eggs live in pig flesh (most common in C America but found in loads of other countries too), the pig is killed and the meat undercooked and eaten by old mate," he wrote.
"Old mate grows a tapeworm in his intestine which eventually produces eggs.
"Old mate goes to el bano, doesn't wash his hands properly then busies himself cooking my vegetarian burrito. Gross.
"Once in my stomach they never become tapeworms but they migrate into the muscle, most of the time causing no problem and you'll never know it's there, the only place you'll have problems is if they make it to your brain or eyes.
"Once in the brain the body reacts by sealing it in a kind of cocoon or cyst where it quite happily lived for 4 f**king years!
"It's only when it dies that the body has some kind of inflammatory response resulting in swelling which in turn lead to the seizures."
Whalley is now out of hospital.
"I don't feel like I've retained any deficits from the brain surgery but I guess only time will tell. Perhaps the slice will be taken out of my golf swing. My friend Clem thinks I will become racist."
Frenzal Rhomb is best known for the 1999 album, A Man is not a Camel, which included the tracks You Are Not My Friend and Never Had So Much Fun. They last toured New Zealand in 2011.
According to the Facebook post, Frenzal Rhomb is to begin work on album number nine.
- nzherald.co.nz