Country could see weeks of gridlock and even fresh elections.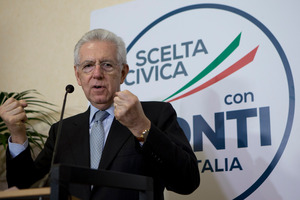 Politicians and investors are bracing for a revival of Europe's fiscal and currency crisis and a deepening of euro-scepticism as Italy grapples with forging a stable government after two-day general elections.
After a poll whose low turnout marked voter discontent with a chaotic political system, a centre-left coalition looks poised to take the Lower House of Parliament, while a right-wing party led by former Premier Silvio Berlusconi may take a slender majority in the Senate Upper House.
A third party, the Five Star Movement, led by a comedian turned damn-them-all activist, Beppe Grillo, has grabbed third place, while outgoing Prime Minister Mario Monti's party has trailed a distant fourth.
If these trends are confirmed officially, Italy could be in for weeks of gridlock, possibly culminating in fresh elections, say analysts.
Such an outcome could be crippling for the eurozone after a months-long break from the debt storm that in 2009 began with Greece, spread to Ireland, Spain, Portugal and Cyprus, and began to batter Italy, too.
Part of the respite came from the success of Monti - an unelected technocrat who took over from the scandal-tainted Berlusconi - in pushing through spending cuts.
During his 18 months at the helm, Italy's borrowing costs, which scaled unaffordable levels under Berlusconi, fell back and the euro stabilised, but at the cost of stoking unemployment and deep unpopularity.
Pier Luigi Bersani, who heads the Democratic Party at the head of the centre-left coalition, has vowed to maintain Monti's programme.
But his ability to do so will be crimped by Grillo's anti-austerity party, which wants Italy's debt cancelled and a referendum on whether to stay in the euro.
And Bersani's chance of overhauling Italy's corrupt and ramshackle legislative structure will be thwarted by Berlusconi's clout in the Senate.
"A stalemate between the two houses of Parliament would add a noisy element of instability to the political mix," Berenberg bank warned investors.
Investors hailed the first signs that the left had won by buying heavily into Italian stocks, with the Milan index leaping by more than 3.5 per cent.
But the gains were all but wiped out when new results from the Senate reflected gains for Berlusconi, a 76-year-old media tycoon facing charges of tax fraud, abuse of office and sex with an underage prostitute.
The gap between Italian and German 10-year government bonds - a benchmark of faith in Italy's creditworthiness - rose to 293 basis points from about 255 points before polls closed.
"I don't think Monti's austerity measures were too harsh. It is what Italy had to pursue in light of the situation.
"But the political response is typical because the public doesn't understand the importance of the financial markets.
"They just see the austerity, they don't see the benefits of keeping the interest rates down," Jeffrey Bergstrand, a professor of finance at the University of Notre Dame in Indiana, told Reuters.
Andrea Mammone, professor at the University of London's Royal Holloway College and co-author of Italy Today. The Sick Man of Europe, said the result not only reflected a divided country but also showed suspicion towards the European Union and German Chancellor Angela Merkel, whose backing for Monti's austerity has backfired.
"It is evident that people voted against it.
"This also reinforced Berlusconi's propaganda against the European Central Bank, Merkel and the euro currency.
"It also partially helped Beppe Grillo's movement to appear like another potential 'saviour' for the country," Mammone told the Herald.
Grillo and Berlusconi can be counted upon to pound away on the eurosceptic drum, he predicted.
"The public will monitor the links between EU institutions and [a future] government, assuming that there will be one and that no other elections will take place soon," said Mammone.
"The growing popularity of some anti-EU feeling is, unfortunately, becoming widespread across the European borders."