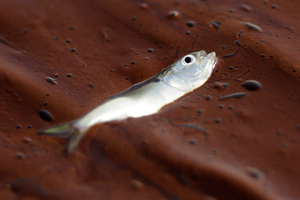 Nearly three years on from the Deepwater Horizon oil spill in the Gulf of Mexico, BP was yesterday accused of being "blinded" by its bottom line with a corporate culture where "money mattered more than the environment".
The claim, made in an opening statement before a packed New Orleans courtroom by Luther Strange, Attorney-General of the spill-ravaged state of Alabama, came as the company was finally put on trial over the disaster.
The Government and private plaintiffs are suing the oil giant and its partners, and the case wraps together numerous claims and counter-claims.
"The evidence will show that, at BP, money mattered most," Strange said.
"Money even mattered more than the lives of the 11 workers who died on the [Deepwater] Horizon rig. Money mattered more to BP than the Gulf. A lot more."
Earlier, even as settlement talks were said to be intensifying in the background, a battery of lawyers filed into Judge Carl Barbier's courtroom.
On one side, there was the team representing BP and the other companies involved in the spill, including the rig owner Transocean. Then there were lawyers for the private plaintiffs, the US government and the worst-affected states including Strange's counterpart from Louisiana, Attorney- General James 'Buddy' Caldwell.
Judge Barbier, a maritime law expert who will be hearing the case without a jury, began the proceedings by warning that BP, its partners and the plaintiffs faced a "lengthy trial" which would unfold in distinct phases.
The first phase, which began yesterday with opening statements for both sides, is expected to last for three months, and will determine whether BP or its partners were "grossly negligent" in relation to the incident aboard the Deepwater Horizon rig that led to the spill and the deaths of 11 workers.
Such a finding against the oil giant could potentially land it with fines of more than US$17 billion ($20.4 billion) under the US Clean Water Act.
The second phase will turn to the flow rate of the oil from BP's Macondo well below the Deepwater Horizon rig.
A third phase, expected to follow next year, will focus on potential damages.
The first day of the trial was taken up with opening statements from the parties. Jim Roy, a lawyer representing the private plaintiffs in the case, kicked off by first attacking Transocean for its failure to adequately train its personnel, and later on BP, accusing its London-based executives of prioritising cost-cutting and oil production over safety in the run up to the spill.
BP, which has spent more than US$24 billion on spill-related costs so far, in its opening statement rejected the claim of gross negligence.Independent