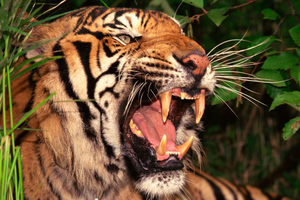 Almost half of India's wildlife funding goes to the Bengal tiger, recent reports have shown.
"Project Tiger", a conservation project to protect India's Bengal tiger, is apparently receiving almost NZD$37 million of the nation's NZD$75 million wildlife budget for 2012-2013, an article in Live Mint reported.
While the Bengal tiger is currently listed as endangered by the IUCN Red List, India is also home to 132 other species considered critically endangered.
The next best earner on the list are elephants, which are allocated NZD$4.7 million.
Yet combating the illegal wildlife trade, considered to be one of the most serious threats to India's endangered species, receives slightly more than NZD$1 million and some species get no funding at all.
"The Great Indian bustard was a priority species for action for which we even developed a species recovery plan (along with the Bengal florican, the lesser florican, Jerdon's courser, the giant clam, the hangul, the Bastar wild buffalo), but funds were not allocated by the government," Asad Rahmani, the director of the Bombay Natural History Society told Live Mint.
There are only 250 of the Great Indian bustard left and the Kashmir stag population has fallen to 160.
In contrast, there are about 3,000 tigers surviving in six distinct subspecies and the Bengal tiger is thought to be the most vigorous of these.
It has been argued that conservation of flagship species like tigers and elephants has a trickle-down effect for lesser known species.
But others believe appealing and popular endangered animals receive a disproportionate amount of funding and attention.
Tigers have been lucky enough to have their case highlighted by high profile tiger lovers like Vladimir Putin and Leonardo DiCaprio, who have lent the animals their status.
In 2010 Putin held an international conference on tiger conservation, at which NZD$610 million dollars was pledged.
- nzherald.co.nz