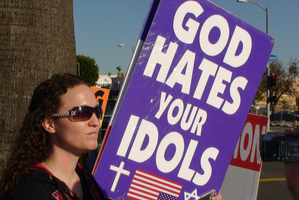 Until last year, Megan Phelps-Roper was famous as one of the faces of the Westboro Baptist Church (WBC), frequently seen yelling anti-gay or anti-Jewish slogans at the funerals of dead servicemen, and then repeating them on Twitter to her 10,000-plus followers.
Since the infamous church's first such protest in 1991, the 27-year-old has carried a "God Hates Fags" placard to 44 states and around 240 cities across the US.
Now, however, she has crossed the picket line. Phelps-Roper, the granddaughter of founder Reverend Fred Phelps, was once described as the "future leader" of the church. But she and her 19-year-old sister, Grace, confirmed this week that they had departed the Kansas-based congregation in November.
Megan was responsible for the church's social media presence, and chose to announce her defection with her sister in a post on the blogging platform Medium on Thursday.
"Up until now, our names have been synonymous with 'God Hates Fags'," she wrote, referring to the slogan brandished by the family at its protests. "We know that we've done and said things that hurt people. Inflicting pain on others wasn't the goal, but it was one of the outcomes. We wish it weren't so and regret that hurt."
In an interview accompanying the post, by journalist Jeff Chu, Phelps-Roper explained her doubts about the church's teachings arose after she debated doctrine on Twitter with David Abitbol, an Israeli web developer who writes for the blog Jewlicious. The sisters, who are deciding what to do next, said they still "dearly love" their family. "They now consider us betrayers and we are cut off from their lives, but we know they are well-intentioned," she said.
The WBC congregation consists primarily of the extended Phelps family, and is thought to have no more than 40 members. Fred Phelps, 83, established the church in 1955, but the picketing began around 20 years ago.
The group gained worldwide notoriety for protesting at the funerals of US personnel killed in Iraq and Afghanistan, claiming their deaths were God's punishment for America's tolerance of homosexuality.
The church is also vehemently anti-Catholic and anti-Chinese. It picketed the memorial service for Steve Jobs, founder of Apple, and even threatened a protest at the funerals of Sandy Hook victims.
Chu reported in the interview that, since leaving the church's Topeka homestead in November, Megan and Grace have been trying new things, such as sushi and Ernest Hemingway, and sampling alternative churches. "I don't believe any more that God hates almost all of mankind," said Phelps-Roper.
"I don't think that, if you do everything else in your life right and you happen to be gay, you're automatically going to hell. I don't believe any more that WBC has a monopoly on truth."
- Independent