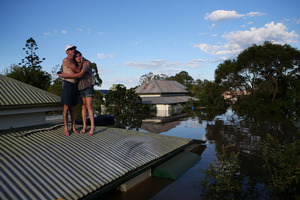 A New Zealand man is one of six people to have died in the Queensland floods.
William Roger Boyles, 65, known as Roger, died after being swept off his motorcycle at an intersection in the Brisbane suburb of Greenbank.
A passing truck caused a wave of water on a flooded bridge which swept Boyles off his motorcycle.
The truck driver saw him fall and tried to save him using a rope - but he was unable to help him.
A Brisbane police spokesman said emergency services attended the scene, but were unable to locate Boyles and dangerous conditions hampered the search efforts.
Police and emergency services searched for Boyles the next morning and found his body in Oxley Creek.
The accident was last weekend but the New Zealand link only became clear yesterday through a death notice in the New Zealand Herald.
Boyles' sister Judy Johnson, from Hamilton, said it was a real shock for the family in New Zealand, especially her mother in Invercargill.
"It was an absolute freak accident - it was a matter of being in the wrong place, at the wrong time."
Johnson, her mother and three sisters received emails and messages of sympathy from Boyles' friends in Australia.
"They describe him as happy-go-lucky, pleasant and always happy to see people," she said.
Johnson would remember her brother for his love of music and piano playing ability.
A private funeral would be held in Brisbane and his family would have a small gathering in Invercargill after that.
In Rockhampton yesterday, residents spotted crocodiles in the floodwaters flowing through the town.
Meanwhile, search and rescue teams were still checking for more possible victims in hard-hit areas of North Bundaberg, 400km north of Brisbane.
Floods ripped away roads, bridges and other repairs and rebuilds since 2011 when the region was last hit by floods.
Power, water and sewerage has been cut. Journalists described scenes of devastation - homes wrecked, some ripped from foundations, and cars and trucks trapped in mud.
State Premier Campbell Newman said the repair bill had already topped A$2.4 billion ($3 billion) and was climbing.
- APNZ