Prime Minister sets 8-month target to win voters and regain Queensland and NSW.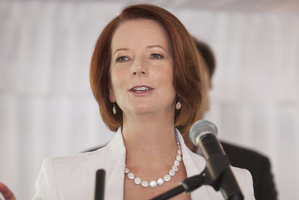 Australia will go to the polls on September 14 following yesterday's surprise announcement of what will effectively be the longest election campaign in the nation's history.
Following a similar tack to New Zealand counterpart John Key, Gillard gave eight months' notice in a bid to grab hold of the political agenda and enable her to build on recent gains in the polls.
But she still faces a hard battle as a continuing underdog, fighting to regain ground in the key states of Queensland and New South Wales while struggling with a weakening economy and more tough decisions ahead.
Treasurer Wayne Swan has already overseen deep and unpopular cuts in spending, and the May Budget is expected to contain more of the same.
Opposition Leader Tony Abbott welcomed the announcement, saying voters would have a clear choice in an election that would be about trust.
"Who do you trust to reduce cost of living pressures? Who do you trust to boost small business and to boost job security? And who do you trust to secure our borders? The Coalition is ready."
Despite a surge in the first Newpoll of the year that brought Labor within striking distance of the Opposition, the Government remains lodged behind the Coalition.
Gillard is more popular than Abbott, but most Australians dislike both. Her position is also threatened by the parlous position of two key independents whose support pushed her into power in 2010 and has since been central to her survival.
New South Wales MPs Rob Oakeshott and Tony Windsor have been heavily criticised for that support in their electorates, and may not survive the coming election.
Yesterday Windsor was upbeat, and said he would defend his seat.
Oakeshott said he was regarded as both hero and villain in his electorate and had not yet decided if he would run again.
The Greens, whose support from both their senators and sole Lower House MP Adam Bandt has also been crucial for Gillard, have made no new commitments but yesterday indicated continued backing for Labor.
"The Greens will be working very hard with the Government to implement as much progressive policy as we can, but we're the ones holding both the Government and Coalition to account in terms of raising revenue," Greens leader Christine Milne said.
Gillard yesterday asked Governor-General Quentin Bryce to issue writs dissolving the House of Representatives on August 12. Half the Senate will also be contested.
She said that the early election date would enable business, investors and consumers to plan their year.
The key dates
* June 27 Parliament's last sitting day before election
* August 12 Governor-General issues writs for the house and half Senate election
* August 19 Electoral rolls due to close
* September 14 Polling day
- AAP