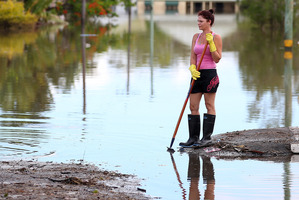 With towns still isolated, thousands displaced and emergency supplies struggling to get through as stocks run short, Australia is again counting the cost of massive flooding.
The worst of the crisis appeared to have passed yesterday as waters began receding over vast areas of Queensland and northern New South Wales escaped the worst.
But two more bodies were found, many roads were still closed, authorities were working to restore power to thousands of homes, and Brisbane was warned to expect water shortages after two treatment plants were shut down.
Six people have been confirmed dead so far.
Beyond the human toll, the recovery bill is soaring.
Almost 13,000 claims totalling more than A$125 million ($156.2 million) have been lodged, and new federal and state funds were released yesterday for victims in northern NSW, adding to those already earmarked for Queensland.
Banks have also announced emergency relief packages, including deferred home loan repayments, restructured business loans, and new emergency limits for credit cards.
The cost will rise higher again as the damage to infrastructure becomes clear, and farmers calculate losses to livestock and crops.
Insurance Council chief executive Rob Whelan criticised state and local governments for not doing enough to protect communities from further inundation after the disastrous January 2011 floods.
He told ABC television that the state's A$40 million mitigation budget was too small and much more was needed, including a ban on developing flood-prone areas of Brisbane and Ipswich.
But Ipswich Mayor Paul Pisasale attacked Whelan for "starting the blame game ... [when] all of these people are hurting. It's very un-Australian," he told the ABC.
Rescue workers found the bodies of two men in a flooded creek near Gatton in Brisbane's west.
A car was found submerged with one of the bodies inside.
Both men - aged 25 and 34 - were travelling separately to work at thesame farm in Mulgowie.
The other deaths confirmed so far include three men who died in separate incidents near Brisbane, Bundaberg and Gympie, and a 3-year-old boy killed by a falling tree.
Bundaberg, about 400km north of Brisbane, remains in crisis.
Although floodwaters have begun to recede, a massive operation was launched yesterday to get essential supplies through to a city in which 7500 people were evacuated, and 2000 homes and 200 businesses inundated.
An initial convoy of trucks with 120 soldiers was yesterday driving north through flooded areas, with more preparing to follow, and relief supplies were being organised as food stocks ran low.
Aid was also planned for nearby towns including Monto, Gayndah, Mundubbera and Eidsvold.
State Premier Campbell Newman told ABC television help was also needed in the Lockyer Valley to the west of Brisbane, one of the hardest-hit regions in the 2011 floods. "They haven't been forgotten out there."
Other areas remain under threat.
Floodwaters were rising yesterday near Condamine, on the Western Downs, and flooding is expected in Rockhampton, 600km north of Brisbane, by the weekend.
In northern NSW the threat has eased, with disaster averted at Grafton - where evacuees were yesterday told they could return home - and floodwaters receding.
NSW Premier Barry O'Farrell said it appeared the worst was over.
But the town of Ulmarra, near Grafton, was yesterday still isolated, and the Pacific Highway was cut.
'Mud army' lifts spirits in Laidley
When Jeffrey Hood arrived with a bobcat to clean up his flood-damaged restaurant in the main street of Laidley, he felt downright dejected.
Pungent mud was piled high on the floorboards of Emily's Steak and Seafood, and a dozen freezers worth A$30,000 ($37,500) were destroyed after torrents of water inundated the town west of Brisbane.
His damage bill from the 1.2m floodwaters that arrived with ex-tropical cyclone Oswald on the Australia Day long weekend is estimated at A$200,000.
But Hood's spirits changed when a "mud army" of 25 turned up - volunteers from Toowoomba and as far away as the Gold Coast - and helped to hose down plates and cart out mud-soaked items.
"I was fragile this morning, but I've bounced back now with all these arms and legs. It really lifts you. I got here at 8 o'clock myself with a bobcat, and I felt very dejected."
Mud-soaked chairs and tables are piled up on the footpath of the Laidley-Plainland Rd business, which was flooded for the second time in two years.
Across the road, Gary McNeish's Ramnet Information Technology Services, which doubles as a music shop, is also flood-damaged for a second time.
The flood destroyed some customers' laptops that were in for repair and guitars, leaving an estimated bill of A$50,000.
"We just keep going, I suppose. It's rough again. You start thinking maybe it's time to call it a day, but no, we're going to continue on," the 13-year business owner said.
- AAP, Stephen Johnson in Laidley