Republicans desperate to 'stop being stupid party' and appeal to wider demographics after Romney's defeat.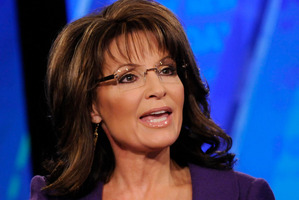 Word at the weekend that Sarah Palin was let go by Fox News, where she had been peddling her conservative positions for three years, barely shocked.
Who hadn't seen that coming? The Republican Party is rushing to rebrand itself and whose face does it not want on its new packaging? Sarah Palin's.
The former Governor of Alaska reportedly cost the conservative network US$1 million ($1.2 million) a year - a lot for the number two on a failed presidential ticket more than four years ago.
But Palin's peak probably came in 2010, when the Republican Party was all about the Tea Party surge. Crowned as its figurehead, she wrote blockbuster books and had TV shows.
But that angry energy has ebbed. A poll by Rasmussen says 8 per cent of voters describe themselves as Tea Party members, from 24 per cent in 2010. Only 30 per cent have a positive view of it. "Sarah Palin represented a time and place and that time is passing very quickly and party leaders are finally understanding that," Joe Scarborough, the MSNBC news anchor and former Republican Congressman, noted yesterday.
They may also have concluded that more than irrelevant, Palin is toxic. The reinvention going on now in the wake of Mitt Romney's defeat is about rediscovering moderation. It is why party leaders have put off a fight on the debt ceiling. It's also why four Republican senators appeared alongside four Democrat colleagues yesterday to lay out a plan for immigration reform.
The Republicans are doing it because of the drubbing suffered by Romney among Hispanic voters last year. No one blinked a year ago when primary candidates vied for the most extreme stance on immigration. But this month Palin was excoriated by Colin Powell, the former Secretary of State, for accusing Obama last year of "shuckin' and jivin"' on what happened at the US consulate in Benghazi. It was a racist slur from the slavery age, he said. Some in the party "still sort of look down on minorities."
Last week, the Governor of Louisiana, Bobby Jindal, said the GOP had to "stop being the stupid party". He was referring most obviously to when Todd Akin, a Senate candidate in Missouri, said victims of "legitimate rape" had biological means to stop becoming pregnant. Would he put Palin in the same stupid box?
Palin said leaving Fox was an opportunity for her. "We can't just preach to the choir; the message ... must be understood by a larger audience," she said.
Everyone would wish her luck with that, except perhaps for those now engaged in making the Republican Party more broadly palatable again.
- Independent