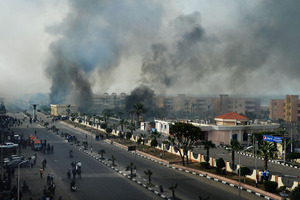 The streets of Port Said were convulsed by gun battles as groups of civilians, some using Kalashnikov machineguns, launched attacks on police stations and an army club.
At least seven people were killed and more than 400 injured during the violence in the city in Egypt's north east, which began when security forces launched an unprovoked attack on tens of thousands of mourners as they carried the coffins of 33 protesters who were killed during clashes on Sunday.
Egypt's President declared a state of emergency and curfew in three Suez Canal provinces hit hardest by unrest, using tactics of the ousted regime. Angry and almost screaming, Mohammed Morsi vowed in a televised address that he would not hesitate to take even more action to stem the latest eruption of violence. Morsi also invited opposition leaders to talks on the crisis.
Machine guns could be heard rattling throughout the centre of the Port Said, as police holed up in one of the main stations exchanged fire with protesters among the shuttered-up streets.
Hundreds of civilians, many of whom had been caught up in the earlier attack, were sheltering in side roads as they tried to avoid ricocheting bullets.
Further north, close to the Mediterranean beachfront, black smoke continued to pour into the evening sky from an army club which had been torched by protesters earlier in the day.
It was here that the funeral procession had first come under attack. As tens of thousands of people marched towards the city's main graveyard, tear gas canisters began exploding outside the army club's gates.
It was not immediately clear who initiated the attack, but members of Egypt's central security forces - who routinely launch gas at protesters during civil unrest - were stationed in a nearby compound further west along the road.
Spluttering men and women staggered away from the club and into a side-street. As the procession was re-routed, one middle-aged woman handed out chunks of onion to help mourners combat the effects of gas.
"I've never known anything like this to happen in Egypt before," said Mahmoud Tito, a 20-year-old customs worker who was caught up in the attack. "I never thought the police would attack a funeral".
After finally arriving at the graveyard and burying the dead, the mood among mourners turned to anger.
Returning to the army club, groups of young men broke into the compound and torched two buildings.
At the police club further along the road, where tear gas canisters were raining down from 100m inside the compound, gangs of youths set fire to a third building.
One protester, wielding a Kalashnikov machinegun, then darted sideways across the deserted main road, unleashing a burst of automatic fire at the police club as he ran. The funeral procession took place after 33 protesters were killed during a previous outbreak of rioting on Sunday.
Locals had tried to storm a prison holding football supporters condemned to death for their role in last year's Port Said stadium disaster, in which 74 fans died.
Many in the city believe that the suspects are the victims of a political show trial - a view fuelled by the fact that all of the security officials accused of complicity had their verdicts postponed.
- Independent, AP