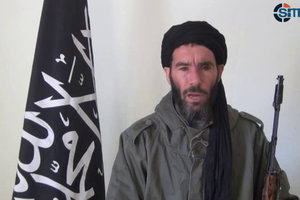 Mokhtar Belmokhtar is also called "Mr Marlboro". Photo / SITE Intel Group
For many years Mokhtar Belmokhtar was little more than a footnote in the intelligence reports analysing the increasingly muscular presence of Islamist groups in Saharan Africa.
The man whose al-Qaeda-inspired Signed in Blood Battalion led the attack on the In Amenas gas plant in Algeria, in which at least 38 people were killed, was considered a relatively unimportant figure in the political ecosystem of the vast region.
But Belmokhtar, who fought for the mujahideen in Afghanistan and the Islamist GIA in the Algerian civil war before becoming a commander in the Mali-based al-Qaeda in the Islamic Maghreb (AQIM), was ambitious.
In 2003 he masterminded the kidnapping of 32 European tourists whom he successfully ransomed.
The money gave him the seed capital he needed to develop a sophisticated trading business throughout Saharan Africa, along the ancient 3220km salt route used by the Tuareg tribesmen to transport goods from the continent's west coast through to Timbuktu in Mali, then on to Niger before arriving in Algeria, gateway to the Mediterranean.
But whereas the Tuareg made their money in trading salt, gold and silk, Belmokhtar, who secured close links with the tribesmen through marriages to the daughters of several of their most prominent families, made a fortune through a different commodity: smuggled cigarettes.
Such was the volume of his trade that he earned himself the sobriquet "Mr Marlboro".
"He was not an important figure in AQIM, he was quite different from al-Qaeda and [Osama] Bin Laden," said Morten Boas, a senior research fellow at Oslo University and author of African Guerrillas, Rage Against the Machine. "He is generally known as one of the more pragmatic figures, more interested in filling his own pockets than fighting jihad."
The key role cigarettes play in facilitating terrorism has been inexplicably ignored. But it has become of urgent interest to Western intelligence agencies as they seek to check al-Qaeda's diverse factions operating across the Saharan region.
Indeed, after interviewing numerous agents and experts in the field, the International Consortium of Investigative Journalists (ICIJ) has concluded that "cigarette smuggling has provided the bulk of financing for AQIM", whose affiliates include Ansar al-Sharia, an offshoot blamed for the killing of the American Ambassador, Chris Stevens, in Benghazi, Libya, last year, and which was thought to be behind threats last week that prompted the UK Foreign Office to urge Britons to leave the city.
The total value of the illicit tobacco trade in north Africa is thought to exceed US$1 billion. The United Nations Office on Drugs and Crime estimates that Africans smoke 400 billion cigarettes a year, of which 60 billion are sold on the black market.
However, five countries - Algeria, Egypt, Libya, Morocco and Tunisia - smoke 44 per cent of Africa's cigarettes, and their black markets are significantly larger. Controlling the flow of contraband into these counties has triggered a turf war as Belmokhtar and other AQIM factions compete with each other, as well as Tuareg tribes and corrupt army and government officials, in an attempt to "own" the trade.
The cigarettes often enter West Africa through Ghana, Benin and Togo. A second route is via Guinea, where the supply, according to UNODC, vastly exceeds the country's demand. The cigarettes are then moved to Mali by road or by boat on the Niger river, where there is little risk of detection. A third distribution hub - for Senegal, Morocco and Algeria - is provided by Mauritania.
Mr Marlboro and AQIM clean up, either by charging a "tax" for the safe passage of the cigarettes along the salt route, or facilitating their transport, using 4WDs, trucks, motorcycles and even bicycles.
"His [Belmokhtar's] days as a smuggler are over," Boas predicted.
"No bandits or traders will want to be within a kilometre of him now. They don't want to be targeted by American drones."
But, given the money at stake, there will be no shortage of others ready to take his place.
-Observer