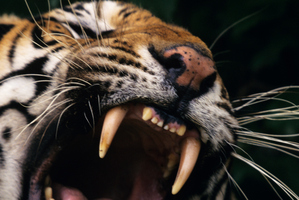 The BBC is filming its next blockbuster wildlife series in ultra-high definition 4K video producing images with four times the number of pixels as traditional high definition. And the pioneering production, which will be the UK's first 4K natural history series, features the nation's favourite curious mammals - meerkats.
But you will need a 4K television to watch Survival in all its 8.29-megapixel glory. If you have a living room large enough, Sony has an 84-inch (2.13m) version retailing at £25,000 and only available in Britain from Harrods. George Michael has reportedly already bought three and a Gulf Prince has placed an order for six.
Those preferring something more discreet might wish to wait for the 65-inch version or even the dinky 55-inch, which will be in the shops this summer. The BBC is committed to exploiting the opportunities offered by the 4K revolution, which has been tipped as offering a better viewing experience than 3D TV.
Several feature films including The Amazing Spiderman and The Girl with the Dragon Tattoo are being remastered in 4K but Survival is set to be the first wildlife blockbuster filmed in ultra-HD.
- Independent