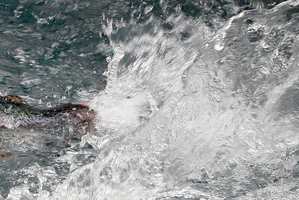 A cruise ship is on its way to rescue a solo round-the-world yachtsman who is floating in a life raft in remote waters after abandoning his vessel southwest of Tasmania.
The rescue operation entered its second day on Saturday but it may be Sunday evening before the first vessel, the cruise ship Orion, can reach the Frenchman.
The Australian Maritime Safety Authority (AMSA) says three aircraft will be used in the operation on Saturday to help communication efforts with the sailor and any vessels in the area.
Aircraft will remain in the area until a vessel can get to the man, as the location is too distant for a helicopter to rescue the sailor, AMSA said in a statement.
The Orion has started making its way towards the yacht's position but isn't due to arrive until Sunday evening.
The man was located in his life raft in remote waters on Friday night, about 946km from Hobart.
The sailor, believed to have been at sea for several months, had abandoned his yacht after it lost its mast and suffered hull damage in rough conditions.
A second life raft containing communications equipment has been dropped down to him.
A civilian aircraft remained on scene overnight and received communications from the sailor, AMSA said.
The crew also sighted a light in the area and attempted to get in contact with nearby vessels.
AMSA's Dornier aircraft will return to the scene on Saturday morning to attempt to communicate with the sailor.
Officers were not able to get much information when contact was made with the Frenchman on Friday because he spoke very little English, an AMSA spokeswoman has said.
An emergency beacon was activated about 1pm (AEDT) on Friday, 500 nautical miles southwest of Hobart.
AMSA says an associate of the sailor contacted them early on Friday morning after the yacht had been de-masted.
It says it made contact with the sailor but he did not declare he was in distress at the time and was advised to head towards Hobart.
- AAP