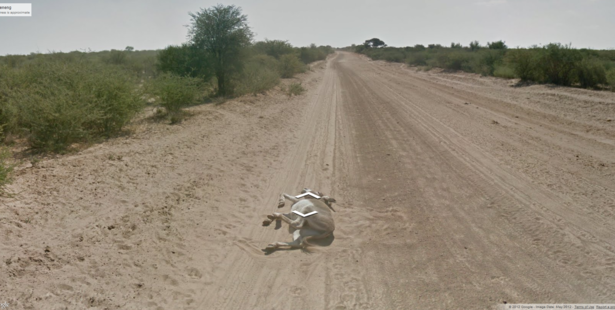 A Google Street View photo showing a donkey lying on a dusty road in Botswana has gone viral after a Twitter user voiced concerns that the animal had been run over by the street view car.
The tweet included the photo and the comment: "I think google street view ran over a donkey in Botswana."
Internet users around the world then began to share the photo, retweeting it over 1000 times.
Some were quick to jump on Google for the donkey's fate.
"'Do no evil' apparently doesn't apply to donkeys," wrote one user.
"The evidence is fairly compelling," tweeted another.
But others went to the internet giant's defence, saying the donkey had been rolling in the sand.
The speculation prompted Google to release a statement, arguing that the donkey was "perhaps enjoying a dust bath".
"Because of the way our 360-degree imagery is put together, it looked to some that our car had been involved in an unseemly hit and run, leaving the humble beast stranded in the road.
"As our imagery shows, the donkey was lying in the path - perhaps enjoying a dust bath - before moving safely aside as our car drove past."
Google said it was "pleased to confirm the donkey was alive and well".
Google Street View's recent expansion has seen it go into new countries and territories around the world.
It was in Botswana last February.
- nzherald.co.nz