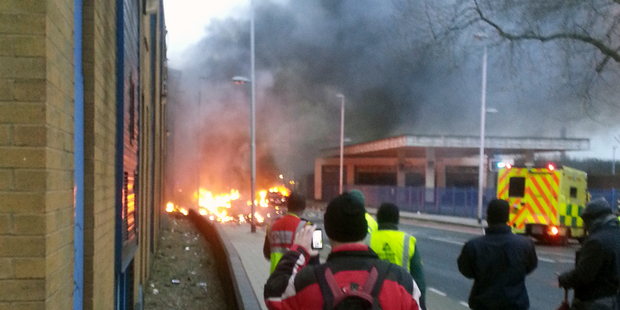 A helicopter has crashed and exploded in a ball of flames in a busy London street during rush hour. Police say two people were killed.

Witnesses told of seeing the helicopter hit a crane on a building site in Vauxhall, next to the River Thames before it cartwheeled and hit the ground.

The top of the crane apparently also toppled on to the ground and there were reports two cars were caught up in the fiery crash, which happened during rush hour.

Highly flammable fuel from the helicopter created a fireball and pictures from the scene showed wreckage on fire across a large area and smoke and flames rising from the ground by a tower block on Wandsworth Road.

The helicopter, reported to be a private flight, was carrying only the pilot.

The incident happened close the the MI6 headquarters and the site of the new US embassy which is under construction.

There were reports all train services at Vauxhall and Waterloo stations had been suspended.

The scene is close to a commercial helipad near Battersea Power Station.

London Fire Brigade said it had received numerous calls about the incident and it had sent 22 fire trucks to the scene.

The London Ambulance Service said it was responding to the incident but had no further details.

A witness told Sky News: "This is right next to Vauxhall Bus Station, which is a major commuting point. We arrived to find the area sealed off. Suddenly everyone was exiting their vehicles.''

"We are aware of an incident," Reuters quoted a police spokesman as saying. He declined to give further details.

Witness Quinn Murray told BBC Radio Five Live: "I heard a big crash and I looked up.
There was a massive ball of flames. It is chaos. I just saw the helicopter hit the floor.''
- APNZ