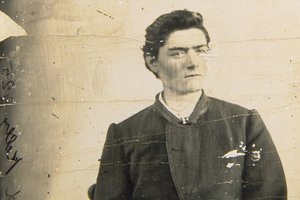 Bushranger Ned Kelly died true to his own values and the final instructions of his mother.
Now, his last wishes are to be respected with a burial on Sunday in his mother's unmarked grave, more than 130 years after his execution in Melbourne.
After a memorial service tomorrow, Kelly's remains will be interred at a private family funeral at Greta, near Glenrowan. the town north of Melbourne where he fought his last battle wearing the homemade armour that made him world famous.
He was hanged on the first floor of what is now Old Melbourne Gaol in November 1880. His final words were reported as: "Tell them I died game."
Yesterday, in a statement reported by Fairfax Media, his descendants revealed details of Kelly's third and final letter to the Victorian Governor asking for his mother to be released from jail.
The letter also reported his last meeting with his mother, during which she told her son: "Mind you die like a Kelly, Ned."
The Kelly family's statement said they wanted the burial to be in keeping with the bushranger's last wish. He asked to be buried in consecrated ground with only his family in attendance to ensure "a private, respectful and dignified funeral".
"The family wish for their privacy to be respected so that they may farewell a very much loved member of their family."
Kelly had no chance of his wishes being fulfilled after his execution.
He was buried initially at Old Melbourne Gaol, then transferred and interred with the remains of more than 30 other convicts in a mass grave at the now-closed Pentridge Prison. His skeleton was identified in 2011 by DNA sampling, using samples from the great-grandson of his sister.
But his skull was missing and its fate remains a mystery. It was stolen from a display case at Old Melbourne Gaol in 1978. DNA testing of a skull claimed to have been hidden in a tree stump in remote Western Australia for 30 years proved it was not Kelly's. Other claims have been made, but the skull has never surfaced.
And Kelly's place in Australian history remains hotly debated. Supporters hail the bushranger as a champion of the oppressed, while detractors maintain he was a thief and a cold-hearted killer. Either way, he will finally be laid to rest.
Kelly's great nephew Paul Griffiths, told Fairfax the burial would "respect one of their own".
"Our aim is to give Ned a dignified funeral, like any family would want to."
Life and crimes
* c1854/1855 - Born Edward Kelly in Beveridge, north of Melbourne
* 1869 Arrested for assault
* 1870 Arrested for assault
* 1871 Arrested for riding a stolen horse and fighting with police. Sentenced to three years' jail
* April 1878 Kelly goes into hiding after being accused of assaulting a police officer
* October 1878 Kelly and his gang kill three police
* December 1878 They hold up a bank in Euroa
* February 1879 Kelly and his gang dress as cops and rob a bank in Jerilderie
* June 1880 Shootout between police and the Kelly gang at Glenrowan Inn. Kelly is arrested, the three members of his gang die
* October 1880 Kelly faces trial and is sentenced to death
* November 11, 1880Kelly is hanged.
- AAP