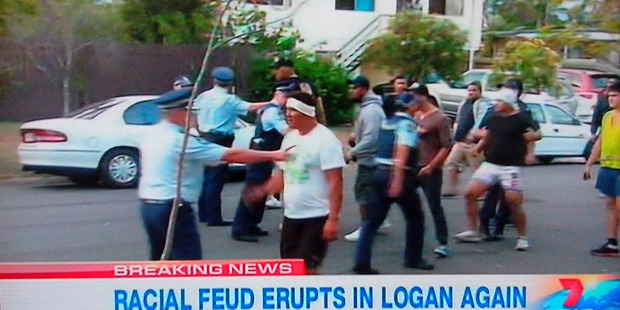 Racial tensions between two families in a Queensland suburb have reached boiling point, with authorities struggling to control the violence.
Police riot teams have been called in several times in the past few days to a street in Woodridge, Logan, following riots between two families living there.
The violence has been so bad that Premier Campbell Newman announced that those families involved could be asked to move out.
"There are some of these people in public housing and if they wish to move to a different location so we can defuse these things, those are the sorts of things we'd do with people's co-operation," he told media.
The warring groups - between an Aborigine family and Pacific Islanders made up of Tongan and Samoan members - have put the street on lockdown, with fights breaking out during the day and night.
Members have used baseball bats, batons, sticks and ripped off wooden fence palings to attack each other and smash cars and properties.
The violence started in the early hours of Sunday morning, when a fight broke out. Things escalated on Monday night when members smashed property windows and banged up cars parked on the street.
Neighbours told local media it was terrifying.
One resident told the Brisbane Times: "Last night we barricaded ourselves inside. The Pacific Islanders were coming down from one side of the street and the Aborigines from the other...you feared for your life."
She said she heard one man say: "We came for blood. This isn't finished."
It is understood leaders from both the Aboriginal and Pacific Island communities have met to come up with a way to stop the tensions.
Last night, a member of the Logan Community Church of the Nazarene - which is a multicultural congregation nearby - told the Herald that Samoan church leaders had already met to discuss the issue.
"That's what we've done, but I'm not sure what the Tongan leaders have done," she said.
It is not known exactly what caused tensions to build between the two groups, but locals say things started to get heated following the death of Aborigine teenager Jackson Doolan.
The 17-year-old was killed when he was hit by a train at Loganlea Station in December.
It is believed the teen had got into an argument with three men before he jumped onto the tracks.
Despite what police have said, relatives of the young man claim the men were Pacific Islanders.