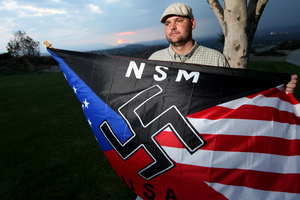 A California judge has found a 12-year-old boy criminally responsible for the murder of his neo-Nazi father.
Joseph Hall was just 10 when he shot and killed his white supremacist father, Jeffrey, in the early hours of May 1, 2011. The verdict, delivered yesterday, which pronounced Joseph guilty of second-degree murder, means he could be incarcerated in a juvenile facility until he is 23.
Judge Jean Leonard, who heard the juvenile court case without a jury, made her ruling after a trial that turned on whether the boy was fully aware of right and wrong when he used a revolver to shoot his 32-year-old father in the head at point-blank range as he dozed on a sofa at the family's home in Riverside County, 95km east of Los Angeles.
Last week defence lawyer Matthew Hardy withdrew Joseph's initial plea of not guilty by reason of insanity, and instead urged the judge to convict him of voluntary manslaughter. Joseph Hall chose not to testify.
Jeffrey Hall, an unemployed plumber with Nazi insignia tattooed on his head, was a regional director for the National Socialist Movement, which advocates the expulsion of Jews and non-white citizens from the US.
Hall had taken his young son on night-time patrols of the Mexican border and to rallies during his unsuccessful campaign for election to the local water board, at which the pair performed Nazi salutes together. Independent