As heatwave moves north, researcher says Australia should rethink 'sentimental' approach to national parks.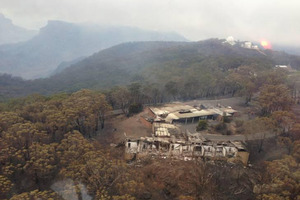 Australia's bushfire crisis has resumed with a fury after a brief weekend respite, yesterday claiming at least 33 homes in northern New South Wales with fears for more losses.
The heatwave which scorched Tasmania, Victoria and southern NSW has moved north, producing temperatures expected to soar above 40C over vast areas for the next few days.
High winds and lightning strikes are adding to firefighters' problems.
In Tasmania, where the worst bushfires since 1967 have destroyed more than 130 homes and where four major outbreaks continue to rage out of control, the crisis has claimed its first life.
A Victorian firefighter helping to battle flames on the ravaged Tasman Peninsula, south of Hobart, was found dead on Sunday. The cause of his death remained unknown yesterday.
The fires have also brought condemnation of preparations ahead of the summer and refuelled the debate over the management of national parks, the seat of some of the most dangerous outbreaks.
Bushfire researcher Dr Christine Finlay said NSW could have averted the worst of the crisis if a tougher policy on preventive burn-offs had been imposed last winter, when hazard reduction work could have been carried out safely.
She said NSW authorities may have miscalculated their approach to the fires.
Finlay also said the nation needed to rethink its "sentimental" approach to national parks.
"Australia's new trend to turn as much forest and grassland as possible into national parks is very dangerous. They constitute Australia's biggest firestorm."
Yesterday more than 146 fires were burning in NSW, 36 of them uncontained.
The most dangerous was still raging out of control in the Warrumbungle National Park west of Coonabarabran in the state's northwest, by late yesterday claiming 33 homes, at least 50 farm buildings, machinery and livestock.
The fire has also damaged the Siding Spring Observatory, the base for the Anglo-Australian Telescope and a series of others that have played an important role in international research. A building was destroyed, but the telescopes were unharmed.
As the fire neared the observatory and surrounding countryside 18 staff joined 100 others fleeing for safety.
The firestorm, burning across a 100km front over 40,000ha, terrified residents watching smoke plumes similar to an atomic explosion.
"[It's] just become the most frightening thing I think I've seen, or I want to see," an evacuee, Donna Burton, told ABC radio. "It was almost like a mushroom cloud, but you could hear the crackling and the flames. It was like literally a fire storm in the sky."
NSW Rural Fire Service Deputy Commissioner Rob Rogers described the fire as ferocious.
"The smoke plume of that fire extended some 14km into the air and even prevented us from getting aircraft overhead because of just how dangerous and bumpy the conditions were," he said.
Warnings continued ahead of the fire late yesterday, with fears that more homes could be lost.
Firefighters have been further stretched by lightning strikes, sparking new outbreaks, bringing down power poles and cutting power at one stage to 25,000 people.
In Sydney, a father and son have been charged after a drug laboratory capable of producing millions of dollars worth of crystal methamphetamine hydrochloride, known as ice, was torched, sparking a bushfire.
It is alleged the men deliberately set the remote bush laboratory near Camden alight, causing a fire that razed 55ha of land.
At a glance
* 33 Homes destroyed at Coonabarabran40,000haburned in the fire near the Warrumbungle National Park
* 100km front, with the fire uncontained
* 50 farm sheds had also been lost along with many livestock, much fencing and farm machinery
* 1 building destroyed at Siding Spring Observatory
Overall in NSW
* 146 fires, 13 out of control and 36 uncontained
* 500,000ha burned so far
* 770 firefighters, 208 trucks and 74 aircraft deployed.
- AAP