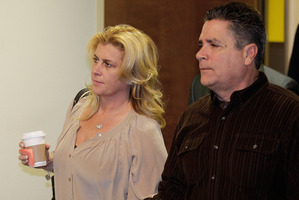 The father of a victim of the Colorado cinema massacre yelled "rot in hell!" at the alleged gunman as a judge delayed officially charging him a day after ruling he stand trial.
Four or five people walked out of court after Judge William Sylvester postponed for two months a hearing to arraign James Holmes, the 25-year-old accused of shooting 12 moviegoers dead and injuring at least 58 others.
Following preliminary hearings this week it was ordered on Thursday that Holmes face trial over the massacre in Aurora, outside Denver, last July.
But the suspect's defence lawyers objected to the arraignment on Friday morning and the judge postponed the hearing until March 12.
After the announcement Steve Hernandez, father of victim Rebecca Wingo, shouted "Rot in hell, Holmes!" and guards immediately took him out of the room.
After the court settled he returned, and apologised. The judge told him: "I am so terribly sorry for your loss. I cannot imagine the emotions that must be raging" but he then asked Hernandez to follow the court's rules of conduct. Hernandez replied: "I meant no disrespect to your honour. I can promise no more outbursts."
Holmes is accused over the July 20 shooting at a midnight screening of the Batman movie, The Dark Knight Rises.
Witnesses said Holmes threw smoke bomb-type devices before opening fire randomly with weapons, including an AR-15 military-style rifle, a 12-gauge shotgun and a .40-calibre pistol.
Over three days this week, prosecutors called witnesses who gave chilling accounts of the slaughter, and played 911 emergency calls in which the chaos and loud booms of gunshots could be clearly heard.
Holmes' lawyers did not, as expected, present witnesses to bolster a case that he may be mentally unfit to stand trial.
The prosecution said Holmes planned the attack well in advance. Photos found on his iPhone suggested he had surveyed the cinema weeks before the shootings. There were also images of him posing with guns and explosive devices hours before the massacre.
Holmes made at least 16 purchases from May to July last year, including four firearms, incendiary devices and almost 6300 rounds of ammunition, the court heard.
-AAP