Guru and others point to stars, Western influences and clothes.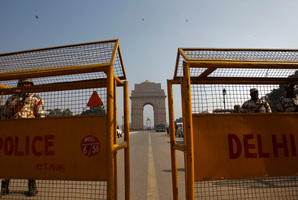 An Indian spiritual leader has sparked outcry by claiming the student raped and murdered in New Delhi was partly responsible for what happened and should have pleaded with her attackers to leave her alone.
It was the latest in a series of controversial comments campaigners say highlight a mindset within the heartland of India that permits such assaults to take place.
Asaram Bapu, a self-styled guru, told followers in Rajasthan the 23-year-old was "as guilty as her rapists". He claimed: "The five or six drunken men were not the only ones guilty. The girl was also responsible ... she should have called the culprits 'brothers' and begged them to stop."
Asaram has little international profile but he is a far from inconsequential figure. His comments echo those from religious leaders and provincial politicians who wield significant influence in India, particularly in rural areas.
While large groups of students gather in the city night after night calling for the attack to be a watershed in the way Indian society treats its women, there is an equally vocal and powerful lobby that believes it is women who need to change.
Despite this, Asaram's comments have been widely condemned, not least by the dead student's family. "We had immense respect for Asaram Bapu and also have many books related to him but as soon as we get back to Delhi we will put them on [the] fire," the woman's brother said.
Dr Ranjana Kumari, director of the Centre for Social Research, a Delhi-based NGO, said the comments were indicative of attitudes in much of the country. "His is the deep-seated mentality which creates a culture and traditions that are oppressive to women. Now it's coming into the open in a brazen way," he said.
The Hindustan Times featured a selection of controversial remarks this week under the headline, "Most outrageous remarks on rape".
A Chhattisgarh provincial minister said sexual assaults on women were taking place because "women's stars are not in their favour". He made the comment after allegations emerged that 11 tribal girls had been raped by a teacher in the state.
Mohan Bhagwat, the head of the Rashtriya Swayamsevak Sangh, a right-wing Hindu organisation with links to India's main opposition party, suggested sexual assaults were caused by Western influences and did not happen in the "villages and forests of the country".
Another political leader said women were being attacked because they were wearing fewer clothes. "Women should not venture out with men who are not relatives," said Abu Azmi, a politician from Maharashtra and a leader of the Samajwadi Party. "[Such] incidents happen due to influence of Western culture."
- Independent