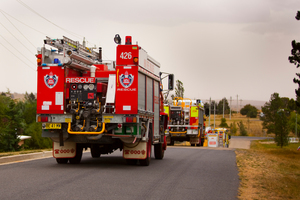 Three teenagers have been arrested for allegedly lighting a fire in west Sydney yesterday, as thousands of firefighters battled wildfires across south eastern Australia.
More than 130 fires are burning in NSW - 40 uncontained - and about 40 continue to ravage Tasmania, as record temperatures yesterday created "catastrophic conditions" for wildfires.
Police said emergency services were called to a fire in bush land in Shelvey, near Penrith, about 1.15pm local time (3.15pm NZT).
Fifteen trucks from the NSW Rural Fire Service and five police were called to the scene. It took firefighters about two-and-a-half hours to bring the blaze under control.
About 10 hectares were burnt by the fire, but fortunately no one was injured and no properties were damaged.
Police said three teenaged boys were arrested nearby and taken to Mt Druitt Police Station where they were spoken to by investigators.
A 14-year-old boy and two 15-year-old boys were charged with intentionally causing a fire, being reckless to its spreading and also causing or setting fire to the property of another.
They were granted strict conditional bail to appear in Parramatta Children's Court on January 29.
When the fire started, temperatures in the area were around 42 degrees Celsius.
Sedgman Crescent resident, Jessica Southerwood, told the Daily Telegraph the fire took hold quickly.
"I walked outside and it was fine, then two minutes later all I could see was smoke and flames. It got pretty hairy but they got it under control quickly - they did a great job."
She was shocked the fire may have been deliberately lit.
"On a day like today - why would you do that?"
- nzherald.co.nz