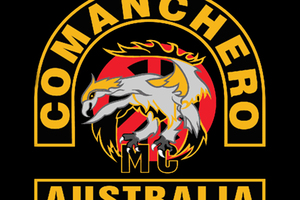 The wedding, by all accounts, was a joyful affair, with 300 guests, traditional Serbian dancing and two dozen motorbikes bedecked with red, white and blue streamers.
But shortly after midnight the festivities came to an abrupt halt when two masked men arrived at the Sydney function centre and opened fire, killing one guest, 23-year-old Samoan Faalau Pisu, and seriously injuring two others.
The brazen shooting last month - police had been monitoring the reception in Canley Vale, attended by two dozen members of the Comanchero motorcycle gang, and had left minutes earlier - was part of a war between rival Comanchero factions, officers believe.
Two days later, another gang member, 28-year-old John Devine, was gunned down on his way to work at a construction site in Rhodes, in western Sydney.
Devine, prime suspect in the Pisu attack, survived and is expected to recover.
Like Pisu, Devine is a Comanchero, as are the bridegroom, Roki Strbac, and the father of Strbac's new wife, Sasha. Police fear further violence, warning the gang appears to be implodingfrom a leadership vacuum and rivalry.
The Comancheros took part in the notorious "bikie" brawl at Sydney airport in 2009, which led to the death of Anthony Zervas, brother of Hell's Angel Peter Zervas. Earlier this year, Comanchero president Mahmoud "Mick" Hawi was convicted of Zervas's murder and jailed for at least 21 years. Other senior gang figures are overseas, behind bars or on the run.
Police say long-standing Comancheros are in conflict with newer recruits who have "patched over" from a smaller gang, Rock Machine, which reportedly has links with Serbian organised crime. Pisu, formerly with Rock Machine, had joined the infamous Milperra chapter of the Comancheros, which was involved in a shoot-out with Hell's Angels on Father's Day 1984 which left seven people dead.
That incident took place in the car park of the Viking Tavern in Milperra, now the Mill Hotel. Chillingly, the hotel has been drawn into the internecine war, with a homemade bomb left on its doorstep in July, allegedly by Comanchero Samy Duong.
Police say the device's timer stopped 17 minutes before it was due to explode, and it could have had "catastrophic consequences", killing or maiming people inside.
Meanwhile, Mark Buddle, who replaced Hawi as national president, has appeared in court charged in relation to a fight at a Sydney pub in September. Buddle, a cousin of Devine's, was extradited to New South Wales from Queensland, where he was arrested on the Gold Coast a fortnight ago.