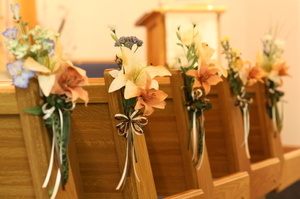 An Indiana groom who was racing to get to his own ceremony insted landed in a county jail - his second stint behind bars on his wedding day.

Timothy Thompson, a 23 year old from Valparaiso, Indiana, was allegedly driving at speeds over 160kmh in order to make his 7pm wedding ceremony at the Nativity of Our Saviour Church, according to local media The Times.

Thompson was arrested for resisting law enforcement, criminal recklessness and reckless driving. He was also cited for speeding and improper passing.

According to police, an officer spotted Thompson about 6.30pm but the groom allegedly continued to drive erratically, switching lanes abruptly and, according to the report, nearly rolling his SUV.
Police reported they followed hima all the way to his ceremony where he again nearly tipped over the Jeep Grand Cherokee.
Thompson punctuated the car chase by accelerating and doing a "doughnut", creating a think blanket of tyre smoke, as relatives yelled at him and flailed their arms, according to local police reports.

When questioned, the groom told police he was late for his wedding and estimated he was doing only 140kmh.
He also told police he had his emergency flashers on and was sounding his horn to alert drivers.
When an officer walked away from the man's vehicle, Thompson re-entered his vehicle and drove toward the entrance of the church, where he was stopped by police again.
Thompson, who also told police he had just been released from jail that day, didn't make it to the altar.

He was transported to Porter County Jail and held without bond.
- www.nzherald.co.nz