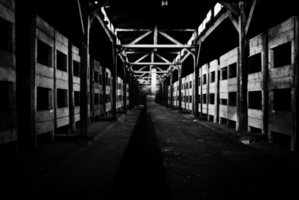 A prominent Swedish artist has been reported to police after he admitted using ashes from Holocaust crematoriums in his work.

In the text alongside the work, artist Carl Michael von Hausswolff explained that he collected the ashes from a Nazi concentration camp crematorium in Majdenak, Poland, more than 20 years ago

Swedish newspaper The Local has reported that years later, he mixed the stolen ashes with water and used the result as paint on acrylic paper.
The painting that sparked the moral outrage is still hanging on display in a gallery in the Swedish city of Lund.

A local resident complained to police under Swedish laws against protecting the peace of the dead.

Salomon Schulman, a member of Lund's Jewish community, wrote in Sydsvenskan that he found the display "disgusting" and called it "a desecration of Jewish bodies."

But the art gallery owner defended his gallery's decision to show a painting potentially made of Holocaust victims' ashes.
Martin Bryder, who owns a gallery in Lund, told Sverige Radio that he "sees no moral problem or flaw with exhibiting" von Hausswolff's creation.

The Swedish artist had previously been toasted in the New York Times as "as both "dour and funny" and has represented Sweden at the Venice Biennale, but his latest works will unlikely get him such accolades.

"You shouldn't use remains as souvenirs," art critic Tor Billgren said in The Local.

Author Salomon Schulman, however, was more brash.
"It is repulsive in the extreme," he told Sveriges Television, likening the work to a fascination with necrophilia and questioned whether it should be called art.
"Who knows, some of the ashes might come from some of my relatives?" he wrote, adding that he refused to see the work for himself.
Von Hausswolff is yet to comment on his work or the complaints to police.

- nzherald.co.nz