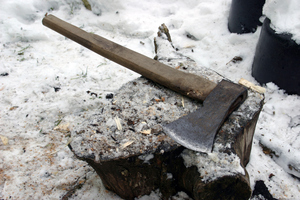 A Russian grandmother killed a wolf with only her bare hands and an axe after it attacked her.

Aishat Maksudova told the British newspaper Metro that she was tending to her farm animals when the wolf attacked in the village of Novo Biryuzyak, Russia.

The 56-year-old became the target of the lone wolf's open mouth after she saved her calf from its clutches.

Maksudova said she "was not even frightened" during the wolf attack, which left her with only a bandaged hand.
"The wolf clawed into my leg and when I raised my arm up the wolf was just holding my hand; trying to claw my hand.'
Maksudova said she wanted to throttle the wolf to death but was forced to reach for her axe when she could not prise the wild animal's jaws open.
"I took the axe and hit him on the head."
- nzherald.co.nz