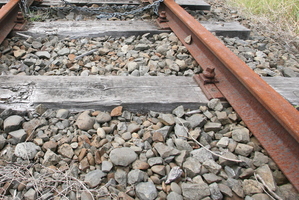 A train has collided with a truck at a level crossing in Melbourne's south, leaving a 30 year-old man dead and injuring up to 13 other people, including the driver of the train.
Police said about 30 people were aboard the south-bound metro train when it struck the truck's trailer at the Abbotts Road level crossing in Dandenong South at 11.42am (local time) on Saturday.
The front carriage on the six-car train jackknifed, derailing and overturning it, while others came to rest on their sides across and beside the tracks.
Detective-Inspector Maurice Lynn said a male passenger died at the scene after being found and treated by paramedics near the main engine of the train.
He was suffering a heart attack when emergency services found him, police said in a statement.
About a dozen other injured people, believed to have been passengers on the train, were taken to hospitals nearby, with one of them in a critical condition after being trapped in the rubble.
The driver of the train was in a serious but stable condition after being freed from the wreckage and taken to The Alfred Hospital with lower body injuries.
He was trapped in the train for more than an hour before being freed at around 1pm.
Paramedics gave the driver fluids and oxygen as emergency services worked to free him.
"Our team were treating his injuries while he was in there," an ambulance spokesman told AAP.
Det-Insp Lynn said most of passengers taken to Frankston and Dandenong hospitals had minor injuries, mainly bruises and abrasions.
Metro Trains said train services on the Pakenham line between Dandenong and Cranbourne will be suspended, with buses to replace trains.
-AAP