A toppled crane, a collapsed apartment building ... and amid the storm's fury, trapped New Zealanders report home.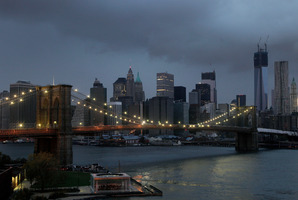 Crane alert
A crane atop a $1.5 billion luxury high-rise in midtown Manhattan collapsed in high winds and dangled precariously as Sandy raged last night.
Meteorologists said winds atop the 74-storey building could have been close to 155km/h at the time.
The nearly completed high-rise is known as One57 and is in one of the city's most desirable neighbourhoods, near Carnegie Hall.
From her apartment near Central Park, Annaliese Sharkley heard the wind pick up and then the sound of the 48m tall crane snapping.
The former Aucklander, who has lived in New York since 1996, said about the same time two windows smashed in the building next door. "It scared me enough to barricade behind my mattress for the rest of the night as I live in a small studio apartment with a wall of windows."
Shannon Kaye, 96, who lives in the building next door to One57, said: "I never liked that building, looking down into my bedroom. I always had the feeling that something would come falling down from it."
See no evil
With the worst of the storm over, Kiwi Sarah Knowles is glad she doesn't have a television set so she wasn't able to watch the destruction.
"We haven't been able to watch the news reports - that was really scary. We are sort of in the dark ... it was good not seeing the images of cars floating down the street."
Miss Knowles, 23, holed up in her upper west side apartment with two other Kiwis, Thomas Walker and Anthony Walton.
"There's howling winds and rain, but there's not the floods which are happening four blocks from us."
Face off
Part of the facade of a four-storey building in the West Village collapsed yesterday, leaving rooms open to the elements but no one injured.
Firefighters on Twitter initially reported a "multi-dwelling building collapse", but pictures later revealed that the front wall of the top two floors of the building was missing.
The fire department later said no one had been hurt. "There are no injuries or people trapped at 92 8th Ave building collapse, which involved the facade of the structure," it said in a tweet. The building is between 14th and 15th Streets in Manhattan.
Just like NZ
Sitting in a glass conservatory in Upper Manhattan, Ryan Subritzky said American media were overplaying the storm. "It is raining with gusts of wind comparable to a typical wet winter's day in New Zealand," the 25-year-old said.
Originally from Auckland, the Kiwi was in Manhattan for business and the New York Marathon, which he said still seemed to be going ahead.
"Streets are like a ghost town," he said. "Of all the times I've been here I have never seen it so empty. Kind of post-apocalyptic looking.
"It's pretty bad in New Jersey, but it just seems like really bad weather here."
Don't panic
West Coast-Tasman Labour MP Damien O'Connor found himself trapped in New York as Sandy was about to hammer the coastline.
Before hunkering down at a friend's apartment, Mr O'Connor went for a run through the city.
"A lot of stuff was closed. The street I ran down, I just saw on TV, a crane collapsed," he told the Greymouth Star.
Mr O'Connor has been in Canada on parliamentary business and is now in Manhattan, where he was to attend a now-cancelled meeting with the New Zealand mission to the United Nations.
Before Sandy made landfall. Mr O'Connor said he was "not panicking yet but working on a plan to get out".
Marathon task
Frances Morton travelled from New Zealand to New York to run the city's marathon, due to be held this weekend. But the writer is now not so sure it'll still go ahead.
"There's banners up on the streets saying where the marathon route's going to be and they're all just coming down and flapping around.
"It's going to be quite a lot of work I think to get everything in order by Sunday," she told TVNZ.
Morton said at first she was a bit blase about the storm, but as friends sent her frantic texts and floods struck other parts of the city, the nervousness and anxiety picked up.