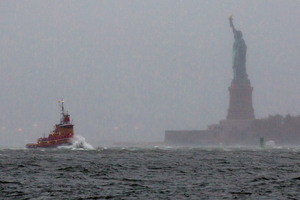 The normally bustling New York resembles a ghost town as hundreds of thousands of people flee from Hurricane Sandy, according to expat New Zealanders living there.
Kiwi restaurant owner Stefan Ching, 38, was forced to leave his apartment near the Hudson River with his wife and two young children as part of widespread evacuations.
Mr Ching, who is staying with friends, said there was a "sense of panic" as people rushed to get away from the city and considered himself lucky to have gotten a taxi within 45 minutes, as transit systems have all been shut down.
"Effectively all our public transport has been shut down, and those who don't get out on time risk being stranded," he said.
"All the bottled water has run out at the supermarket and people are just panic buying."
The worst of the storm is set to hit this morning (NZT) and many Kiwis were among those leaving the city, where the storm was expected to arrive overnight.
Authorities warned that the biggest US city could get hit with a 3.3 metre wall of water that could swamp parts of lower Manhattan, flood subway tunnels and cripple the network of electrical and communications lines that are vital to the nation's financial centre.
Sandy, a Category 1 hurricane with sustained winds of 120.7km/h was blamed for 65 deaths in the Caribbean before it began traveling northward, parallel to the US eastern seaboard.
New York officials warned that it might be days before trains there started running again.
Mr Ching said there was an eerie feel as the city turned into a ghost town. Those out and about were mainly tourists.
"We're just hoping for the best, that the damage is not going to be too bad."
Michael Aldwell, originally from Lincoln in Canterbury, described what he could see from where he was in Hoboken, across the river from Manhattan.
"They are evacuating the University Medical Centre here [and there] are about 40 ambulances down the street.
"Windows are taped and boarded up all through the town and the water is expected to cross the boardwalks into town during the storm surge."
Mr Aldwell said many building blocks and offices had been closed for the next few days, meaning work was off for many residents.
Sarah Knowles, originally from Auckland, said her pantry was full of canned soup.
The 23-year-old, who lives in an apartment building on the upper west side of Manhattan, was with fellow Kiwi mates Thomas Walker and Anthony Walton. They were getting ready to ride out the storm by watching DVDs.
"We went to the supermarket and just got loads of soup. All the shelves at the stores were just bare - people are really hunkering down."
An estimated 5000 New Zealanders live in the low-lying areas from Coney Island to Manhattan.