Fear that expansion of three of city's oldest mosques will also destroy key historic sites.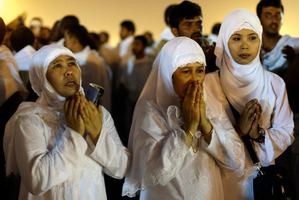 Three of the world's oldest mosques are about to be destroyed as Saudi Arabia embarks on a multibillion-dollar expansion of Islam's second holiest site.
Work on the Masjid an-Nabawi in Medina, where the Prophet Muhammad is buried, will start once the annual Hajj pilgrimage ends next month. The development will turn the mosque into the world's largest building, with the capacity for 1.6 million worshippers.
Most of the expansion of Masjid an-Nabawi will take place to the west of the existing mosque, which holds the tombs of Islam's founder and two of his closest companions, Abu Bakr and Umar. The Saudis have announced no plans to preserve or move the three mosques there, which have existed since the seventh century and are covered by Ottoman-era structures, or to commission archaeological digs before they are pulled down.
Dr Irfan al-Alawi of the Islamic Heritage Research Foundation says: "There are ways they could expand which would either avoid or preserve the ancient Islamic sites but instead they want to knock it all down."
Heritage campaigners and many locals have looked on aghast as the historic sections of Mecca and Medina have been bulldozed to make way for shopping centres, hotels and skyscrapers. The Washington-based Gulf Institute estimates that 95 per cent of the 1000-year-old buildings in the two cities have been destroyed in the past 20 years.
In Mecca, the authorities destroyed the Ottoman era Ajyad Fortress and the hill it stood on. Other historic sites lost include the Prophet's birthplace - now a library. Of the seven ancient mosques built to commemorate the Battle of the Trench - a key moment in Islam - only two remain.
The disregard for Islam's early history is partly explained by the regime's adoption of Wahabism, an austere and uncompromising interpretation of Islam that is vehemently opposed to anything which might encourage Muslims towards idol worship.
Mecca and Medina
12m The number of people who visit Mecca and Medina every year
3.4m The number of Muslims expected to perform Hajj (pilgrimage) this year
60,000 The capacity of the Masjid an-Nabawi mosque
1.6m The capacity of the mosque after expansion
- Independent