Fire crews have already been battling dozens of blazes, some of which threatened to engulf towns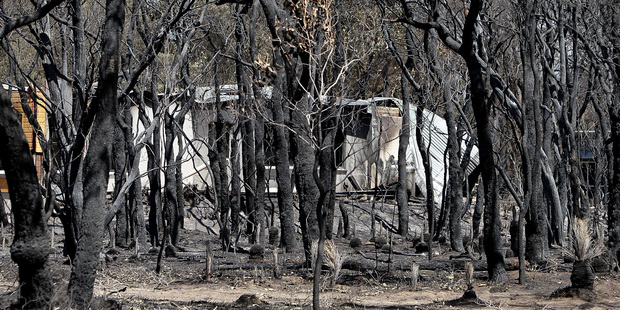 Huge fires across Queensland and New South Wales have hardened fears that much of Australia is heading into another dangerous summer.
Even before the latest outbreaks fire teams were fighting bushfires as early as August, and long-term weather forecasts predict higher-than-average temperatures for most states.
In many areas this will dehydrate bush and grassland thriving after high rainfall, turning large tracts into volatile tinder for lightning strikes, accidental fires and arson.
"It is clear that this fire season has arrived early, and with hotter, drier weather predicted, people need to get ready now, not later," NSW Rural Fire Service Commissioner Shane Fitzsimmons said after a weekend of more than 100 outbreaks.
"This is a stark reminder of the reality of bushfire season and the damage fires can cause."
Already, only three weeks into this year's fire season, volunteer rural firefighters in NSW have battled more than 370 fires - double the number at this time last year.
More than 1000 firefighters spent the weekend attacking fires that caused an estimated A$1 million ($1.26 million) worth of damage across the state, killing livestock and destroying sheds, tractors, fences and electricity poles and lines.
One fire alone razed 22,000ha of pasture and killed 200 head of stock.
In Queensland, fire crews have been trying to bring dozens of fires under control, some of which threatened to engulf towns before being contained.
Fires at one stage neared Crows Nest, on the Darling Downs, and yesterday firefighters were still battling two fires east of Lake Cressbrook, near Toowoomba.
Tens of thousands of hectares have been burned in other fires near Thargomindah in Queensland's southwest. Police believe some may have been arson.
Grass fires also broke out in Brisbane.
In South Australia total fire bans were imposed across the northern pastoral areas as hot, dry weather created a severe risk of outbreaks.
Several grass fires sparked by lightning have been burning through the far north and southern Flinders Range.
About 425,000ha has been razed by 11 outbreaks in the remote Anangu Pitjantjatjara Yankunytjatjara lands in the far northwest of the state.
The scale of the early fires in the eastern states confirms predictions made by experts from fire services, bushfire research organisations and the Meteorology Bureau at fire season forecasting workshops.
They warned that "abundant" grass growth from two successive, wet, la Nina events through the eastern states had raised the danger of serious outbreaks this summer.
Much will depend on the development of another El Nino, which would bring an even hotter, drier summer, although the Meteorology Bureau's latest forecasts said there was only "some chance" of one occurring.
Even so, temperatures are forecast to rise above average over southeastern and northern Australia, especially between November and January.
All states except Tasmania and Victoria are expecting a higher fire risk, but there remains a high risk of fast-running grass fires through large parts of Victoria.
Hell of a season ahead
* Another dangerous summer lies ahead as hot days dehydrate vast tracts of lush grass and bushland.
* Temperatures are forecast to rise above summer averages.
* Fire services warn of a higher risk of big fires in all states except Tasmania and Victoria.
* Volunteer rural firefighters have already been battling outbreaks for months, with NSW reporting double the number of fires over this time last year.
* Just three weeks into the fire season, outbreaks have burned through hundreds of thousands of hectares of Queensland, New South Wales and South Australia.