Military fears range of consequences including deaths and harassment.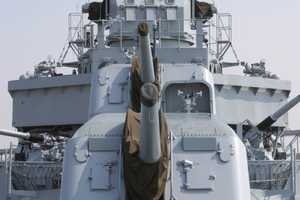 The Australian Defence Force has spelled out its fears surrounding women in combat as the Government announced a five-year plan to implement its decision to open its most dangerous jobs to females.
Learning from the experience of New Zealand and other nations that have already lifted gender restrictions, Australia will allow women frontline roles ranging from infantry and armour to special forces.
It will also target women in new recruiting drives.
But the new plan comes as Defence Minister Stephen Smith prepares for a royal commission or judicial inquiry into allegations of serious sexual abuse raised in an earlier investigation of abuse in the military.
It also follows another report by federal Sex Discrimination Commissioner Elizabeth Broderick on the treatment of women in the military, which found continued career barriers and sexual harassment and abuse.
Defence chiefs remain concerned at the prospect of women in combat, detailed in confidential briefing documents listing fears ranging from increased sexual harassment to front-line pregnancies and likely public revulsion to battlefield deaths.
The documents, reported in yesterday's Sunday Telegraph, also list concerns over privacy, perceptions that women may not perform as well in combat, and the possibility that male soldiers might feel the need to protect women in war zones.
"The community is divided on the issue with strong views opposing the move at one extreme and firm support with caveats at the opposite extreme," the documents said.
The Sunday Telegraph also said defence chiefs feared there could be a high risk that the Government may apply pressure to bump up female numbers in new army combat roles, if women failed to apply or did not meet physical standards tests.
The documents said there was an extreme risk of damage to the reputations of both the Government and the military if the policy backfired.
High-level risks included "negative public perceptions", the refusal of defence personnel to accept the changes, women spurning dangerous jobs in navy diving units, and problems from "non-existent" levels of personal privacy.
Defence chiefs were also worried about media pressure on women training for combat roles, and perceptions of discrimination from allowing women on-the-job combat training, an option not open to men.
There were also concerns at possible litigation against the military, the failure of women to take up combat roles, and the possibility female trainees might not pass new physical employment standards, with perceptions of discrimination if they were rejected for special forces jobs.
But the Government will go ahead with the policy. Women already serving in the military will be able to apply for combat roles from January.
Changing of guard
* The change: 7 per cent of positions still closed to women will be opened. Serving ADF personnel will be able to apply for the new frontline combat roles within three months. But females outside the Army, Navy and Air Force will have to wait another three years.
* The jobs: They include infantry, artillery and armoured corps roles, Air Force defence guards and Navy clearance divers and mine clearance dive officers.
* Defence fears outlined in a risk log: Include increased sexual harassment, privacy problems, men trying to protect women in war zones and women being considered not "credible" in combat, litigation, deaths and battlefield pregnancies.