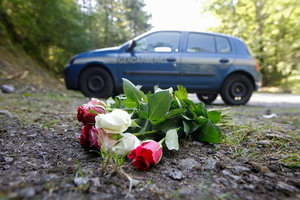 The British family who died in a hail of bullets in the Alps was pictured smiling and relaxed just 33 minutes before they were found dead.
The time sequence was revealed six weeks after the Al-Hillis, from Claygate, Surrey, were killed on September 5 close to Lake Annecy, in France.
French investigators have a picture taken by the family in the village of Arnand, near to the murder site, at 3.15pm that day.
Prosecutor Eric Maillaud said it was a real family photograph. He added: "Both women were smiling and did not seem worried. This suggests that everyone was relaxed at the time."
It is the time the picture was taken that could be significant.
Afterwards the family would have got back in their car and driven to the outskirts of Chevaline. The cyclist who was also killed in the attack, Sylvain Mollier, overtook Brett Martin, the Englishman who discovered the bodies, on the road that led to the murder scene.
Mr Martin, a former RAF serviceman, says he saw nobody else by the time he arrived, nor during the rest of the period between the photographs being taken and his calling the emergency services at 3.48.
This would have meant a window of far less than 33 minutes for the killer - or killers - to disappear without trace.
Engineer Saad al-Hilli, 50, his wife Iqbal, 47, and his 74-year-old Swedish mother-in-law, Suhaila Al-Allaf, were all found dead in the family BMW.
The Al-Hillis daughter, Zeena, four, survived after hiding while her sister, Zainab, seven, was badly injured.
Investigators have also been looking at a Swiss bank account in Mr Al-Hillis name. It is thought to be linked to a family argument.