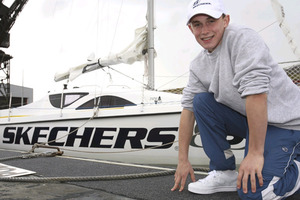 Sitting behind the wheel of his bright orange rented campervan, Mike Perham might look like any normal, fresh-faced British backpacker.
But stand closer, and you'll see a world map tacked to the car's front, which shows the 26,659km the 20-year old has driven in the last three months, spanning most of the world, including some of its worst post-disaster zones.
The youngster is following in the steps of legendary English explorers Francis Chichester, Robert Falcon Scott, and Ranulph Fiennes, and using his adventurous spirit to raise cash for an international disaster relief charity.
Already a world record holder for the youngest person to sail solo around the world as a mere 17-year-old, he's just touched down in New Zealand on his quest to become the first to solo circumnavigate the world by land, sea and air.
He's on the homeward leg of the remarkable land journey, which has seen him bogged down in the unforgiving Gobi Desert, negotiate "hyper-aggressive" Ukrainian border guards, cook on open fires burning horse dung, and been humbled by Chinese poverty.
And Perham is looking forward to a more sedate tour of New Zealand - a country renowned for its adventurers like Sir Edmund Hillary and Sir Peter Blake.
"I want to inspire kids, so when they see what I've done they think, 'Wow, I want to do that'," he told APNZ today, just hours after touching down in post-earthquake Christchurch.
The first leg of his ambitious task was completed at the age of 17 years and 164 days, when he became the youngest person to sail around the world solo in 2009.
His latest journey began when he left London, near his hometown of Potters Bar, Hertfordshire, on July 3. He plans to be home next month after crossing the globe in rented campervans.
But there won't be any time for rest on his return, as he needs to learn to fly a plane - for his third and final leg which is fly solo around the world.
And the novice pilot won't be in a new "flash plastic" plane either.
"I want to take an old, wooden bi-plane, trace the footsteps of Francis Chichester, and bring back the old romanticism of adventure," Perham said.
He's been travelling everywhere in New Zealand-owned and operated Spaceships campervan, and the Toyota vehicles haven't let him down, despite the challenges he's put before them.
Crossing some of the world's most extreme deserts, bouncing over pothole-pocked Russian roads, and fording flooded highways, his trusty Toyotas - he's driving number four in New Zealand - have never let him down.
"Not a single mechanical problem, not even a flat tyre," he says proudly, patting its bonnet in the shadow of a Christchurch building currently being demolished.
Above the din of excavation machinery, Perham spoke of his excitement at landing in Christchurch, where his charity ShelterBox assisted Cantabrians after the February 22, 2011 earthquake.
"I've been looking forward to this part of my journey for a long time, especially the South Island, which I understand is pretty spectacular."
He leaves Christchurch for Queenstown on Sunday, before driving back up to Auckland, from where he flies to Alaska on October 16.
He'll be home next month, and hopes to raise $2 for every 2km he travels, which along with the increased profile, is welcomed by ShelterBox.
"This journey around the world raising much needed funds for Shelterbox has been very humbling," he said.
"I've not only got to meet the amazing people who have assisted in the recovery but also the victims who have lost so much after disaster has struck."
- APNZ