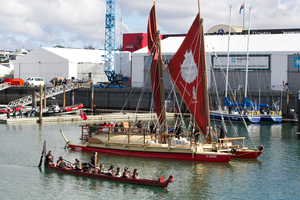 A group of courageous sailors on an historic voyage across the Pacific Ocean aboard two waka have made landfall in French Polynesia after surviving fierce storms and freak waves.
Five weeks after receiving a spectacular send off from Auckland's Viaduct, the 20 Waka Tapu crew members have set foot on Tubuai, one of the Austral Islands.
They are sailing two traditional waka hourua (double-hulled sailing canoes) to Rapanui (Easter Island) using the natural environment to guide them in order to recreate the experience of those Maori ancestors who first travelled across the Pacific to make New Zealand their home.
They are using the stars, moon, sun, ocean currents, birds and marine life to map their way on their 10,000 nautical mile voyage, which will also close the final corner of the Polynesian Triangle defined by Hawaii in the north, New Zealand in the south and Rapanui in the east.
Waka Tapu organiser and New Zealand Maori Arts and Crafts Institute director Karl Johnstone said the sailors had battled storms and extreme swells in recent weeks, one freak wave washed equipment overboard.
"As predicted by our captains and navigators the weather conditions have been very challenging," he said.
"There has often been little or no wind available to help push them east, but they've also encountered heavy seas and extremely cold conditions, resulting in broken equipment and items such as coffee mugs and spoons being lost overboard."
The crews' arrival in Tubuai late last week was celebrated by the local community, cultural groups and representatives from throughout French Polynesia, Mr Johnstone saying the sailors were happy to be back on land but no one wants to get off, "so that's a pretty good indication of their mood".
The people of Tubuai had been amazing. "Their generosity and support for our crew and for the kaupapa has been humbling. It's rewarding to see how initiatives like Waka Tapu galvanise communities and bring geographically-distant relations together to celebrate our shared heritage."
Everyone was in good health and had been enjoying the experience. The fishing had been excellent, and four birthdays had been celebrated.
Pods of humpback whales and grey nurse sharks had been seen, and the two waka had passed within ten miles of the 189-metre container ship Acquilla, but apart from that the journey had been a solitary one.
The Waka Tapu expedition had so far covered 2200 nautical miles, and the crews were resting for a few days before setting sail for Mangareva Island.
That would take another two weeks, depending on the weather.
The waka constructed by master builder Hekenumai (Hec) Busby are due to reach Rapanui in late October or November.
Their progress can be followed here.
For more articles from this region, go to Northern Advocate