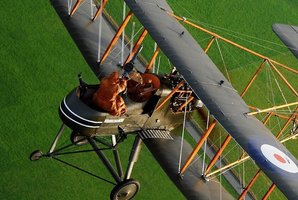 All six people died when a vintage plane crashed north of Brisbane, the Australian Maritime Safety Authority has told AAP.
A photo of the crash site posted on Twitter shows the plane disintegrated when it hit the ground north of the Borumba Dam, which is south of Gympie.
Authorities said it was a "high impact'' crash site.
AMSA said the search - which had involved up to 16 helicopters and an aircraft - had been suspended.
"The search for a missing aircraft in southeast Queensland has been suspended following the confirmed sighting of the wreckage this afternoon,'' AMSA said in a statement.
"An AGL Action rescue helicopter sighted the red biplane north of Borumba Dam before 2pm.
"The search team has confirmed there are no survivors.
"Queensland Police are on the scene and continuing further investigations.''
A spokesperson for the AGL Action Rescue Helicopter Service said two of its choppers were able to land 200 metres from the crash site.
The helicopter's flight doctor and flight paramedic remain at the scene, while other helicopters have been released from the search zone.
The discovery is a devastating blow for the families of the six aboard, including pilot Des Porter, 68, and his wife Kath, 61, from the Brisbane suburb of Tingalpa.
The crash also killed their long-time friends Les D'evlin, 75, and his wife Janice, 61, of Manly West, and John and Carol Dawson, both 63, also of Tingalpa.
Mr Porter, his wife and their friends died in the same red 1930s de Havilland Dragon that crashed in 1954, killing his father and 13-year-old brother.
Mr Porter was in the plane when it went down the first time, but the then 11-year-old was plucked from the fuselage as the tide came in on that crash site in Bulimba Creek in Brisbane.
Mr Porter radioed air traffic controllers on Monday afternoon, near Caboolture, saying he was in trouble in cloudy conditions and was having trouble fixing his position.
The plane's distress beacon was activated shortly afterwards.
The group was returning to Caboolture after spending the day raising money for charity by conducting joy flights at the Monto Fly-In in central Queensland.
- AAP