Alan Jones told uni students' dinner Julia Gillard's father 'died of shame'.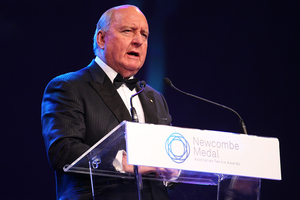 Alan Jones, the Australian radio host, has - like Mitt Romney - learned the perils of being loose-lipped at an ostensibly private function, after a journalist secretly recorded a speech in which he declared that Julia Gillard's father died "of shame".
Jones, whose remarks were universally condemned after being published in yesterday's Sunday Telegraph, was addressing a dinner held by the Sydney University Liberal Club.
There were gasps and shocked laughter among the 100 students when he made the reference to John Gillard, who died last month while the Prime Minister was at the Apec leaders' summit in Russia.
After being roasted on Twitter and denounced by politicians of every persuasion, the 2GB broadcaster called a news conference yesterday in which he delivered a lengthy apology.
"I was taught as a young kid by my father [that] if you're going to eat crow, you should eat it while it's hot," he said. "There are days when you just have to concede and man up and say you got it wrong."
Jones, who has built a career out of whipping up controversy, is a Liberal Party supporter who prides himself on his political influence and attacks Gillard relentlessly on his popular weekday breakfast show.
During his speech in a Sydney restaurant, he said: "The old man [John Gillard] recently died a few weeks ago of shame. To think that he had a daughter who told lies every time she stood for Parliament."
He attributed the Prime Minister's improved poll ratings to her tears of grief, and accused a "brainwashed' Liberal Party of giving her an easy time because "she's a woman".
Among those queuing up yesterday to lambast him were the Liberal frontbenchers George Brandis, who described his comments as being "in very poor taste", and Malcolm Turnbull, who tweeted that they were "cruel and offensive".
Pundits were equally scathing. In the Sun-Herald, columnist Peter Fitzsimons called Jones "a vicious, woman-hating bully".
On The Punch, News Ltd's news and opinion website, the veteran political journalist Malcolm Farr wrote that the outburst confirmed that Jones was losing his grip, turning into "the embarrassing uncle who has to be kept away from the microphone during the wedding toasts".
Last week, Jones won an annual award lampooning public figures who make outrageously sexist comments, for declaring - in a reference to Sydney Lord Mayor Clover Moore and the former Victorian Police Commissioner Christine Nixon - that "women are destroying the joint".
Alan Jones
Age: 71
Who: Host of Sydney 2GB breakfast show
Sporting life: Coached the Wallabies from 1984-87 and later coached the Balmain Tigers in rugby league from 1991-93.
Political life: Speechwriter for Malcolm Fraser when he was Australia's Prime Minister.
What he said
"Every person in the caucus of the Labor Party knows that Julia Gillard is a liar. The old man recently died a few weeks ago of shame. To think that he had a daughter who told lies every time she stood for Parliament."
Alan Jones
The reaction
Former PM Kevin Rudd: The comments were "the lowest of the low. Abbott must dismiss Jones from the Liberal Party now."
Liberal frontbencher Malcolm Turnbull: "Alan Jones' comments about the late John Gillard were cruel and offensive. He should apologise to the PM and her family."
Rival broadcaster Derryn Hinch: "Alan Jones' comments about PM and her father are a disgrace. Mortified to be in the same profession."